Thursday, October 17, 2013
Nestled between The Burger Stand and The Buckle on downtown Massachusetts Street is a magical door that leads you to the one and only Wonder Fair.
This shop is a little taste of the creative goodness that lives in Lawrence, Kansas City and beyond. For all you lovers of handmade stationery, artwork, jewelry and more, I suggest you pay a visit to this hub for inspiration and goodies galore!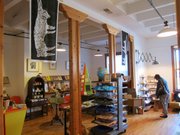 I usually get greedy when I visit shops like this (I'll take this one, and this one, and that one...); while I tend to enjoy snapping up a little bit of everything, my wallet takes the hit. In any case, I ventured into Wonder Fair a couple of weeks back to collect a few new additions to my stationery collection. There's something undeniably fulfilling about finding the right card for a friend or family member. Plus, with the holidays right around the corner, what better time to send snail mail?
Always charming, the interior of Wonder Fair glows with natural lighting and warmed with hardwood floors. The space is intimate, which makes the pieces that occupy it right at home. The shop exudes a Sunday morning feel; if they served hot coffee and biscotti I would surely never leave.
Balancing the coziness is an undeniable energy beaming from the bright colors and animated fonts of the handmade products. Wonder Fair's website explains that its spirit "lies in the conviction that creativity is essential for the well-being of individuals and their community." It's safe to say the shop and gallery embody this mission whole-heartedly.
As expected, I found myself trying to justify purchasing one of everything in the store. The print of a human head on sheep bodies! The note card depicting two unicorns in love! It was all supremely bizarre and a shame to pass up.
In an excellent act of self control, I whittled my options down to the bare necessities: two cards and a postcard to send to buddies on the East Coast, a salt and pepper mini-coloring book, a LFK koozie (duh), and A Hand Drawn Almanac of Pies (... which was for me to keep). Total spent? $38.04. Nothing my wallet could belly ache over. And all to support artists! Yes!
— Jessica Pauly, aka Mrs. Mass., gives her thoughts on shopping, urban living and what's new in Lawrence in CheckOut weekly and on her blog, mrsmass.com.