Thursday, October 17, 2013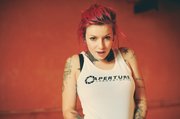 Suicide Girl Nicky Bricks' favorite movie is "Kill Bill."
Lucky for her, she gets to combine her love of dancing and love of Quentin Tarantino on the Suicide Girls: Blackheart Burlesque tour.
Bricks, also known as Bricksie Suicide, is one of five dancers performing across the country this fall with the Suicide Girls: Blackheart Burlesque tour that will stop Thursday at the Granada in Lawrence.
The Suicide Girls use modern music and choreography to create burlesque performances that poke fun at pop culture such as "Kill Bill," "Planet of the Apes," "Doctor Who," "Game of Thrones" and more. The show, dubbed "an evening of light sabers, power tools, zombies and half-naked women," is choreographed by Manwe Sauls-Addison, who has worked with a few names you may have heard of — Lady Gaga and Beyonce, to name a couple.
So, who are the Suicide Girls?
"Girls that defied category. Girls that are confident and comfortable in their skin. Girls with piercings and tattoos," said Missy Suicide, the group's founder.
If you go
Burlesque troupe the Suicide Girls will perform on their Blackheart Burlesque tour at 10:15 p.m. today at The Granada, 1020 Massachusetts St. The show is 18 and up. Tickets cost $22 at the door.
When Suicide Girls was founded 12 years ago, the world was a different place. Tattoos and piercings were still taboo. And Mark Zuckerberg, founder of Facebook, was still in high school.
Suicide Girls, which now has more than 10 million members, celebrates itself as one of the first social networks.
Suicide Girls was founded in 2001 as an online community dedicated to unconventional beauty. At first, Missy Suicide said she thought the website would be popular in places like Seattle and Portland.
Drawing upon the inspiration of classic pin-up girls, their website now showcases women from every continent (yes, that includes Antarctica).
The Suicide Girls have also published three books, toured the United States five times, performed in Europe and Australia and had seven movies on Showtime.
While society has broadened its definition of beauty since Suicide Girls was founded, there are still some obstacles to overcome. As you might imagine, not everyone is on board with the idea of pierced, tattooed, colored-haired women being sexy.
"I think it's an education process and slowing chipping away at people's preconceptions and showing them that confidence is a sexy attribute. Anybody can be beautiful," Missy said.
Bricks agreed.
"I think people have a misconception that since we are naked onstage and online that we are a certain type of girl when the truth is we are just comfortable in who we are," she said.
This is the first time the Suicide Girls have toured since 2006, and they're not holding anything back.
Not only has society's definition of beauty changed, but so has non-traditional burlesque.
"People have seen a lot and it's much harder to show them something that really feels new and original," Missy said. "We knew we had to turn everything up to 11."
More like this story on Lawrence.com