Thursday, October 17, 2013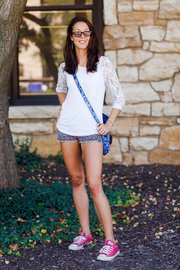 Age: 24
Relationship status: Single/dating
Hometown: Pittsburg, Kan.
Time in Lawrence: About five years
Occupation: I am a model as well as a student. I'm studying organismal biology and exercise science.
Dream job: Honestly, it would be to live on an island and to work in the ocean studying marine biology, or I'd like to teach science at a university. I have so many dream jobs; it's so hard to choose one.
What were you doing when scouted? I just got out of my microbiology lab.
Describe your style: I would say it's unique: some people call me a 'hippy chick' sometimes but then other people say 'preppy.' I guess it's whatever mood I'm in.
Fashion trends you love: I love anything lace! Also I love colorful or patterned leggings, maxi skirts and crop tops although, sadly, summer is over and soon it will be too cold to wear them.
Fashion trends you hate: I'm not really into the high-waisted shorts but they look good on some people.
Fashion influences: I'd say just shopping around, browsing or sometimes I'll flip through magazines or online like Instagram where I can check out different brands or models.
What would you like to see more of in Lawrence? More fun bands and good weather!
Less of? Drunken frat boys!
Tattoos or piercings: My ears are pierced.
Whom do people say you look like? I'm not sure. The lead singer from the band Of Monsters and Men, Nanna Bryndís (Hilmarsdóttir). I really don't know. I like to say I look like me!
What type of music do you unwind to? Probably reggae and some alternative dance music. I like it all.
Tell us a secret: I've gotten an A in a class and I never opened the textbook before!
More like this story on Lawrence.com