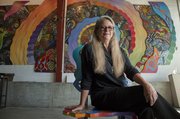 2013 Phoenix Awards
This is the third in a series of five stories highlighting winners of this year's Phoenix Awards. Watch the Journal-World's A&E; section for profiles on the other awardees.
The Lawrence Cultural Arts Commission bestows the awards annually to local artists and art supporters. The public is invited to a free reception recognizing the winners at 2 p.m. Nov. 3 at the Lawrence Arts Center, 940 New Hampshire St.
Cathy Ledeker sees her job teaching art to at-risk youths as "unlocking" the ideas in kids. That goes for the ones who come willingly, and the ones who are reluctant.
"I know that every person has a creative voice — everyone," Ledeker says. "It's a responsibility, but it's also an honor to be with these kids and to see those voices emerging."
Ledeker, who retired this summer from her position as art director at Van Go Inc., won this year's Phoenix Award for educator in the arts.
When Ledeker walks into a woodworking class on a recent visit to Van Go, several students' faces light up. The students, whom she taught last spring, walk up to hug her.
Ledeker's artwork, and work by students she coached, graces most rooms in the Van Go facility at 715 New Jersey St.
The huge, brightly colored, swirling and sparkling sculptural mural inside the front doors? That's hers, as is the smaller mural covering one wall of the computer room. The art gallery is full of work students created when she was their teacher.
Her mark extends beyond the walls of Van Go, too, from the Pinckney Tunnel mural to hundreds of colorful benches designed by her students and auctioned to community members and businesses.
Van Go is an arts-based social service agency that provides year-round after-school and summer job-training programs to high-needs and under-served youths, ages 14 to 21.
Sue Suhler, who nominated Ledeker for the Phoenix Award, writes that her guidance has helped her students create public artwork of which they can feel proud.
"Van Go youth are not required to have any art skill," Suhler says. "Cathy has the challenging job of pulling beautiful work out of each youth that passes through Van Go's doors."
Ledeker graduated college with a degree in painting and "threw in" her teaching credentials at the last minute. She ended up using those skills more than she thought she would.
Ledeker taught K-12 art at public schools for several years and spent 13 years at Van Go, first working as a contract artist teaching a summer program and eventually becoming art director.
At Van Go, she says, a challenge was coming up with projects that were accessible to the youths with the least confidence but challenging to those with the most. Being able to do the art herself — and not being afraid to scribble out something that wasn't working and start over in front of them — helped her develop trust with her students, she says.
No matter what or who she's teaching, Ledeker says she listens to a voice in her head that's always asking, "If I were sitting out there, what would I want? What would I get excited about?"
Ledeker — a calligrapher, illustrator and painter — also has taught watercolor and plein air painting, lettering and illustrating across the country. She has art studios in her Lawrence home and in Creed, Colo.
One of her most visible personal projects is the mural inside the Kansas City Public Library's Central Library in downtown Kansas City, Mo., which combines calligraphy and illumination reminiscent of Medieval manuscripts. Ledeker and another artist painted it in 2004.
Now that she's retired, Ledeker is excited about "re-identifying" herself as an artist, as she hasn't had the time — or creative juices — to put her own work on the front burner for a while.
"That voice has been speaking through Van Go for the last decade," she says. "So now I have to shift my focus."