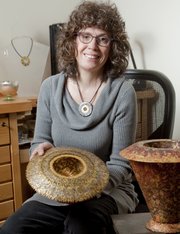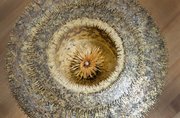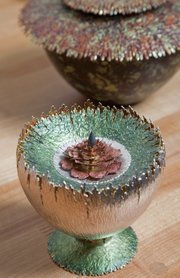 When it comes to Gina Westergard's art, she finds creating functional objects most fulfilling, as she appreciates the memory that gets tied in with the object.
"Inherently there is memory in objects," Westergard says. "So if you were to get a gift, you would think about the person, or if you got an object while traveling, you would think about the place."
Westergard is the 2013 Lawrence ArtWalk Featured Artist award winner, showcasing one-of-a-kind jewelry and mixed-media vessels. This is the ninth year the award has been given out, determined by peer voting among more than 45 artists who will be displaying their art in homes, studios and other art spaces in the Lawrence community.
In Westergard's featured body of funerary urns and reliquaries, she addresses memory by taking the painful subject of death and turning it into a celebration of that person's life.
"The urn is one of the most significant objects you can make as a functional object," Westergard says. "It's such an honor to make an object that holds a person and holds all the memory that goes along with that person."
Rather than associating her recent work with mourning, she combines different textures, vibrant colors and a jeweled centerpiece to bring out a joyful, contemplative experience. Westergard takes apart one of her reliquaries to show a detailed and exquisitely crafted ring in the interior of the piece. The ring is small container (the top comes off), one where you can hold something personal or dear to you, she says, like ashes or a locket of hair.

"I want to evoke joy out of something that could be sorrowful," Westergard says.
This body of work has also helped her address the cycle of life and death, something she contemplates on her and her husband's 137 acres of farmland southwest of Lawrence in Pomona. Westergard moved from Los Angeles to Lawrence 19 years ago, and says the difference in lifestyle was startling at first. Her urns represent the "city girl goes to the country" adjustment.
"Out in the country you really are faced with life and death all the time," she says about a wooded area on their acreage. "There are a lot of animals out there and there are some horrific things that happen. For me, it's really hard."
Her production of jewelry also halted completely as a result of the move. She stopped wearing jewelry as often, and her work reflected this.

"Lawrence is a very casual place," Westergard says. "I still really like to make that kind of jewel-object centerpiece, but I just kind of found a new place for it."
Westergard is an associate professor of metalsmithing and jewelry at Kansas University, and knows her students will benefit from her creating this new line of jewelry specifically for the ArtWalk. Many of her students are not going on to graduate school, she says, and will need to learn how to make a living creating production jewelry, not one-of-a-kind pieces. It entails thinking about marketing and publicity, as well as jewelry quality and integrity.
"This will be a good opportunity for me to put myself in that experience," she says. "Most of the time I don't do shows like this. My work would be in galleries and exhibitions throughout the country. I don't make a living selling jewelry, but there is a lot of integrity for artists that wake up every day and have to figure out how to make a living doing that. I want to bring that experience back to my students."
A special feature artist reception will be held Friday at Studio 3D, 1019 Delaware St., from 5 p.m. to 8 p.m. Look for Westergard's displayed work at the Lawrence ArtWalk on Saturday and Sunday at Studio 3D. Her work will be displayed along with work from artists Cathy Tisdale and Diana Dunkley.
The 19th Lawrence ArtWalk, a self-guided tour of Lawrence artists' studios and other art spaces, will be from 10 a.m. to 6 p.m. Saturday and noon to 6 p.m. Sunday. Artists' receptions will be held from 5 p.m. to 9:30 p.m. Friday and 6 p.m. to 8 p.m. Saturday. For a Google map of the Lawrence ArtWalk 2013 and more information about the participating artists, visit lawrenceartwalk.org.