Wednesday, October 23, 2013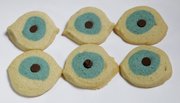 It's October, and Halloween is approaching. You know what that means? It means that everything that can be eaten, sipped or smelled has been doused in the annual Overload of Pumpkin Spice. So what have I got for you this month? A 100 percent pumpkin-free cookie recipe!
We start with the world's most basic refrigerator cookie dough. Choose a day when you're home with lots of little chores to do; cookie baking will fit in nicely. While you're getting cream for your coffee, pull two sticks of butter from the fridge and set 'em on the counter to soften. A couple of hours later, after you've had breakfast and made the beds or fired off that blog post, run the butter in your stand mixer for about 30 seconds. Add 1 cup of sugar and blend at medium speed for 2 minutes. Scrape the sides of the bowl regularly; the mixture will look like grainy mayonnaise.
Drop in two eggs and a tablespoon of vanilla extract and blend for another 30 seconds. Prepare your dry mixture by combining 3 cups of flour, 1/2 teaspoon of baking soda, and 1 teaspoon of salt. Dump the flour mix in the bowl and beat it all together on low speed; about 30 seconds should do it. The dough will be soft, but should hold together well and have no floury streaks.
Scoop all but 1/5 of the dough into a bowl. Just eyeball it (snicker); exact proportions aren't really vital. Cover the bowl with plastic and set it in the fridge. Now choose your color. Use blue or green food coloring, or a tablespoon of cocoa powder to customize your eyes. Use purple or orange for monster eyes! Add the color to the dough remaining in the bowl, blend it up, and refrigerate just like the plain dough.
Once your dough has been chilling for about an hour, it's time to get creative. Divide the colored dough in half and roll each piece into a 12-inch skinny log. Divide the plain dough in half and roll each piece into a narrow rectangle, also about a foot long. Wrap one log inside one rectangle, sealing the long edge; repeat with the other log-and-rectangle combo. If you haven't gotten lost yet, wrap each combo in waxed paper and put them in the fridge.
As day gives way to evening, crank up the oven to 375 degrees and grab a big cookie sheet. Cut your well-chilled dough into 1/4-inch slices; place each piece on the cookie sheet, about an inch apart. Pinch two opposite sides to create an eye shape, and then push a chocolate chip (or a cinnamon candy for monster eyes) in the center of each cookie to make the pupil.
Bake the cookies for six to nine minutes; the edges and bottoms will be "just barely" brown. Use a thin metal spatula to move the cookies to a cooling rack right from the oven.
Enjoy!