Thursday, October 24, 2013
Photo Gallery
Ecoboutiquo makes a statement out of recycling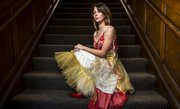 Check out these earth-friendly items:
• Party dress, $85(black), $150 (red/gold)
• Vintage Record bowl, $6
• T-shirt skirts, $24
• Rubber purses, $45
• Rubber earrings, $18
• License plate bracelets, $15
• Coffee bag clutch, $48
From the name alone, you can probably guess that Ecoboutiquo is an earth-friendly boutique. But what isn't readily apparent is that the business owner Loni Hosking is working a triple-threat angle by producing the one-of-a-kind items in her shop.
It's art. It's fashion. But even more than that, it's a conversation. Recycling, upcycling, and reusing are the heart of her mission as she hits up yard sales, tag sales, thrift stores and flea markets to gather material to make fresh artful designs in new clothing and accessories.
"It's a statement," Hosking says. "I hope it stimulates you when you see it to think, 'maybe I can reuse this in my life.' It promotes recycling in a way all the time just by having it on."
Located on 1101 1/2 Massachusetts St. (and up the stairs) is a local gem that has been bouncing around since 2006, and reopened in this new location as of May. The store is chock-full of recycled creations: dresses made almost entirely out of scarves, chopped up fabric and patches, and accessories made from license plates, rubber and children's toys.
"I try to recycle artfully and fashionably anything I can get my hands on," Hosking says.
Her creations are not for the timid, conservative, basics-wearing gal, with the motto "Dress like a rock star" representing her boutique. Some of Hosking's most basic items are T-shirt skirts with bold prints and phrases stitched onto them. Hanging from the wall are two decorative bras made for a recent fashion show, one with little toy cars covering the bodice.
"I like to be provocative and edgy," she says. "Maybe it comes from being a punk-rock chick. My youth."
Hosking worked as a store manager at Waxman Candles for 14 years before deciding it was time for her to have something of her own. Inspired by her love for vintage clothing and personal mission to reuse resources, she jumped right into this business and never looked back.
While she has had booths at art markets in Lawrence and Kansas City, and her work, which is so visually stimulating, has always sold well at those, she liked the idea of having a more grounded shop in town. Hauling up to six boxes in her Jeep to her booth at City Market grew exhausting, and she felt strongly about setting up shop in a college town with forward-thinking individuals.
"I didn't want to go straight, I didn't want to go down, I wanted to launch," Hosking says of her impulsiveness.
Ecoboutiquo has gone from its original 918 Massachusetts St. location to a spot next to Henry's on Eighth Street, to art markets, and now back on Mass. at its new location. With the lackluster economy, it had been hard to maintain renting space, but she has never wanted to go out of business.
The store is open on Saturdays from 10 a.m. to 6 p.m. or by appointment, a schedule she worked out so that she can maintain her part-time job with the Boys and Girls Club in Lawrence.
Hosking gets a good mix of customers who love her creativity and supportive friends who will often clean out their closets and donate clothes for new creations.
"I really do feel like most people want to recycle," Hosking says. "Most people want to do what they can to reduce waste. As I see it, we live in an overly abundant society with excessive and endless resources."
This means plenty of strange room for creativity; she does not discriminate on what material she will work with next. Purses made from rubber found at tire shops, bracelets made from ball bearings from skates and skateboards, bowls made from vintage vinyl records and a weaved clutch made from plastic coffee bags. There is so much you can redo, reuse and rethink, she says.
"It's just kind of thinking outside the box, and I'll let the material lead me in the direction I might want to go," Hosking says. "It's pretty endless."