Thursday, October 24, 2013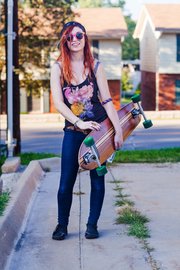 Age: 21
Relationship status: Single and loving it.
Hometown: Topeka
Time in Lawrence: Since May
Occupation: Server
Dream job: Well, my dream is to help as many people as I can in as many ways as I can. I'm not sure what road I will take to get there but that's where I hope to end up.
What were you doing when scouted? I longboarded to campus to get a paper.
Describe your style: I guess I describe it as gypsy punk. Typically, I like to wear flowy stuff but when I'm longboarding I like to wear more edgy stuff.
Fashion trends you love: I don't really follow trends too much. I just wear what I like so if I find something at the Goodwill or at an expensive store and I like it, I'll get it, no matter what style it is.
Fashion trends you hate: I think people should dress how they want. I do.
Fashion influences: I like vintage stuff and I also like the punk stuff from the '70s, '80s and '90s.
What would you like to see more of in Lawrence? More girl longboarders.
Less of? Not sure. We just need more individuality. A lot of students sort of dress the same.
Tattoos or piercings: I've just got a tiny hoop in my nose. I have about 15 tattoos planned but only one so far. I got it when I was 17 and going through a very difficult time: It says, "Life is beautiful."
Whom do people say you look like? I get that I look like an elf almost once a week. Ha! I take it as a compliment!
What type of music do you unwind to: I love reggae like Matisyahu, Rebelution, Tribal Seeds, Slightly Stoopid ­­— that kind of stuff.
Tell us a secret: I never brush my hair.