Thursday, October 24, 2013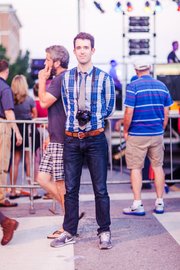 Age: 31
Relationship status: Single
Hometown: Olathe
Time in Lawrence: About a year. I went to school here though.
Occupation: I run all the social media for Kansas Athletics.
Dream job: This is it!
What were you doing when scouted? Just taking pictures at the KU homecoming parade down Mass. Street.
Describe your style: I don't pay attention to anything. I just buy whatever I like. I try not to pay attention to trends. I don't really care but I just try to look good, I guess.
Fashion trends you love: I guess I'm really partial. I don't know how you would describe these shoes but I like the vintage shoe style, which is my favorite thing to wear. There's a lot of outdoorsy-type styles out there that I like as well.
Fashion trends you hate: For guys? I'd say (some types of) business-casual dress in general is pretty terrible.
Fashion influences: I just pick things out myself and I don't follow anything too closely. I definitely buy a lot of JCrew so their style guides are probably an influence, if anything.
What would you like to see more of in Lawrence? I'd like to see more stores like JCrew. I lived here for a year and I haven't really found anywhere where I can go to buy clothes. I go to K.C. or Baldwin (City) to buy clothes.
Less of? I'd like to see more people putting in an effort as opposed to not really caring or not trying. I try to dress uniquely and so if someone else is dressing uniquely and they think that's great, then more power to them as long as they're making an effort.
Tattoos or piercings: None
Whom do people say you look like? When I was younger, people said Forrest Gump. Now, I don't hear too much.
What type of music do you unwind to: I like pop music like Tegan and Sara or Chvrches
Tell us a secret: No!
More like this story on Lawrence.com