Thursday, October 31, 2013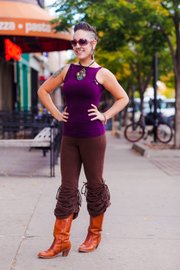 Age: 26
Hometown: Lebanon, Mo.
Time in Lawrence: Our band was formed here (in Lawrence) and we all moved to Austin.
Occupation: I'm part of Dumptruck Butterlips. I'm Butterlips! I also have a clothing line called Ziggy Wear, and I'm also a circus art entertainer! I do acrobatic dance, aerial stuff, fire spinning, breathing and eating!
Dream job: I never really expected to do anything in general. I went to school for piano performance and then everything just kind of happened. I didn't expect to do all of this and be in a band that tours the country.

What type of music is DTBL? We have our own genre that we call "Bedroom Soulgrass"! We do everything from country and blue grass to funk and soul, R&B; and reggae!
What were you doing when scouted? We had a break between tours to come back here to our hometown to hang out, rehearse and then do a Halloween show at the Granada. Right now, I'm heading to the Ingredient restaurant to perform.
Describe your style: I make all of my own clothes, cut my own hair and make my jewelry. One thing that describes my style is that I always have to be ready to climb a tree at any moment or ride a horse. Being a circus art entertainer, I move a lot!
Fashion trends you love: I tend to ignore trends and do whatever I feel like.
Fashion trends you hate: I think just clothes with brand names printed on them real big. It's like saying, "Look how much money I spent on this T-shirt!"
Fashion influences: I go to a lot of music festivals like Burning Man and stuff like that that is just very "artsy" influenced, so my style has to be ready to dance at any moment. They have to be comfortable and functional like these pants and shirt I'm wearing: You can flip it around. They're both versatile.
Tell us a secret: I'm in love!
More like this story on Lawrence.com