Thursday, September 5, 2013
On Tuesday morning, Muddy Waters Studio owner Kara McKamey sat at her pottery kick wheel with a slab of clay, making the beginnings of what could be a bowl or a vase. She threw the piece of gray clay onto the wheel and as it spun, alternated between dipping her hands in water and centering the ball of earth.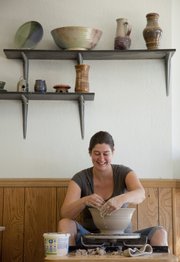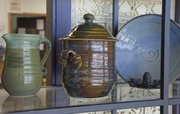 "This is the trickiest part, teaching people how to center the clay," McKamey said.
As the clay evened out and became symmetrical and uniform, McKamey dipped her fingers in the center of the blob to create a hole, then began to pull the edges toward her to create an opening. She continued for a few minutes before pushing her hands against the outside of the moving clay to create the walls of a pot.
"I'm all about the process," McKamey said. "I love giving that to other people, too."
At her studio, McKamey teaches a variety of clay classes to children, adults and groups. She likes that her students don't get the instant gratification that comes from living in a digital world. They have to be patient while they wait for their pots and mugs to be fired in the kiln.
"It's really good for kids to see how everything is done and what steps it takes to get to the (final product)," she said.
Before becoming an art teacher, she had aspirations of becoming a clothing designer, so the Texas-native jetted to Illinois to attend the School of the Art Institute of Chicago. But during her final semester of college, she took a ceramics class and ended up falling in love with using clay.
"I kind of had a knack for it in the very beginning," McKamey said. "I was always having fun with the clay. It was never frustrating for me while I was learning."
She got her master's degree in art education and found a mentor to help her learn more about ceramics while she was living in Vermont in 1997. Everything she learned about clay, she learned from her mentor.
After moving to Lawrence with her husband in 2009, McKamey decided to open Muddy Waters. The space has been open for three years, and offers classes as well as studio space for rent for artists who want to display their ceramic works. Shelves line the front of the studio, filled with bowls, mugs, pots, vases and other pieces made by herself and her renters. This weekend many of those shelves will be cleared as she and other local artists participate in the 34th Annual Fall Arts and Crafts Festival this Sunday at South Park.
The festival will exhibit more than 160 vendors from Kansas and nearby states. Vendors will sell everything from homemade soaps and scented oils to yard art, pottery and paintings. There will also be food vendors and a kids area, complete with kids' arts and crafts, an inflatable bounce house and miniature pony rides.
At the park gazebo, there will be a square dancing demonstration at 11 a.m. as well as live music throughout the rest of the afternoon.
Duane Peterson, special event supervisor for the city's parks and recreation department, said that the fair typically attracts between 6,000 and 7,000 guests who come to browse the booths and soak up the eclectic Lawrence atmosphere.
"Lawrence is a real artsy community and the people who enjoy the town of Lawrence and what it has to offer, they enjoy the festival," he said.
The festival is from 10 a.m. to 5 p.m. at South Park. It is free and open to the public.