Wednesday, September 11, 2013
Delicious
We were delighted when we discovered that not only does the tree in our backyard bear fruit, but the fruit is edible. We have a small apple tree in our back yard that produces small green apples. They are tart but not too tart, and they are fabulous.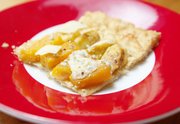 My husband picked a bushel recently, and we thought we'd make hard cider from them, but life is what it is and they're still sitting in a bag in my kitchen, starting to look a little worse for the wear. So over the next few days I'm going to try to use as many as possible. I'll make a big batch of applesauce for the baby and I'll have the 4-year-old eat apple slices with every meal. But what else? There are a LOT of these little suckers to contend with. I didn't want to load the house up on desserts, which of course are the apple's primary interest, so I considered savory options.
I love the combination of butternut squash and apples — it just puts me in the mood for a hoodie and a football game or a big family dinner around the table. Normally, this looks like a big butternut squash stuffed with sausage and apples and sage. But the butternut squashes at the store were smallish and not quite of the stuffing caliber yet, so I changed my approach.
I pulled a sheet of puff pastry out of the refrigerator and tried to deconstruct my stuffed squash into a nice little appetizer or brunch menu item.
My version here is meatless, though I think some bacon or pancetta would be a lovely addition to the dish, or even a sprinkling of ground sausage.
Butternut Squash and Apple Tart
1 sheet puff pastry
3 medium-sized apples
1 smallish butternut squash
2 tablespoons olive oil
1 tablespoon butter
Cooking spray
1/8 teaspoon nutmeg
1/8 teaspoon ground sage
Handful grated Parmesan
Handful blue cheese crumbles
Salt and pepper
Remove your puff pastry from the freezer to thaw and prepare your apples and squash. Cut the squash in half. Remove the seeds and sprinkle with salt, pepper and olive oil. Bake in a 400-degree oven for 40 minutes. Next, peel and slice your apples. I had tiny apples, so the slices were tiny, but if you have a normal-sized apple, you'll just have fewer rows than I did.
When the pastry is thawed, give a baking pan a liberal coating of cooking spray or olive oil and lay the pastry out on it. I spread mine a bit thinner with my fingers and then I scored it all over with a fork.
When the squash is starting to brown on top and is soft but not mushy, remove it and set it aside to cool for a few minutes. When it's cool enough to touch, remove the skin and slice it into pieces similar in size and shape to your apples.
Par-bake the puff pastry for 6 minutes. While you do this, heat a skillet on the stovetop to medium heat and toss your apples in with a tablespoon of butter. Here, you want to soften the apples and brown them a bit but not cook them completely through.
Next, drizzle olive oil over the pastry and make rows of apples and squash, leaving about an inch border all around. Sprinkle with sage, nutmeg, Parmesan and blue cheese. Bake at 400 degrees for another five or six minutes. When it's finished, you might want to sprinkle on a little more cheese, mostly for looks.
Serve on a pretty platter and cut into squares. If you want to get crazy, you could mix up a little cream cheese and honey as a "sauce" underneath everything, but I wanted to focus on the flavors of the fall produce, so I skipped the extra layer of cheese this time. The restraint I showed here should be noted.
Nutritious
Of all the apples in the world, Granny Smiths have a little piece of my heart.
Sure, Galas and Fujis are magnificent. And Honeycrisp are generally worth the higher price at the store for their fantastic, delicate flavor.
But tart, tangy Granny Smiths are my absolute favorite.
The funny thing about that statement: I didn't even realize they existed until high school.
Until then, an apple meant Red Delicious.
They were what was served in school. They were what we had at home. They were the definition of an "apple" to me in my life. And they were just OK to me. Not bad. But not great.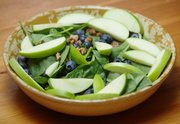 But in high school, my family packed up and went to Australia for a few weeks. We went twice during the four years I was at high school, with a trip to Hong Kong and Taiwan in between flights Down Under (I was a very lucky teenager).
During our first trip to Australia, we went on a bus tour and learned all about the Granny Smith apple, which happened to be a native to Australia "found" in 1868 by "Granny" Maria Ann Smith of Ryde, New South Wales.
After the trip, we decided to go pick up some of the famous apples at a grocery store near our hotel.
I've always loved tart things, and suddenly, the Granny Smith was my new favorite tart/sweet treat. I couldn't get enough of them while we were there, and then they were my go-to apple back at home.
Because of their strong flavor, I think they add quite a bit of bang to salads. They work well with several other flavors and add brightness to every single bite.
Sweet and Tart Fall Salad
Per serving:
Baby spinach
1 Granny Smith apple
2 tablespoons chopped pecans
3 ounces blueberries
Olive oil and balsamic vinegar or your favorite vinaigrette
Layer all ingredients in a salad bowl. Drizzle with dressing and enjoy!
— Megan Stuke (Delicious) is a working mom, a practical cook and an impractical hostess. Sarah Henning (Nutritious) is a writer, blogger, vegetarian and mom. You'll usually find her eating something with kale in it.
More like this story on Lawrence.com