Thursday, September 12, 2013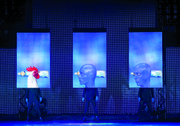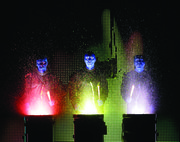 If you go
The Blue Man Group will be performing at 7:30 p.m. Monday and Tuesday at the Lied Center, 1600 Stewart Drive. Tickets cost $35-51 and are available for purchase at the Lied Center Ticket Office, via phone at 864-2787 and online at lied.ku.edu.
Russell Rink has been preparing to be a Blue Man his whole life.
"I've been a musician since the age of 4, and was always into weird theater, drums and trying to see how many grapes I can stuff into my mouth," he said. "Now I get paid to do all of that."
This 10-year Blue Man veteran was expansive on his experience as the bald, child-like man covered in blue make-up (which takes 45 minutes to put on, by the way). Perhaps because the character Rink plays doesn't talk at all during the show, or even at the meet-and-greet, after the show ends.
With his extensive theater background, using his voice to make jokes and perform songs in regional shows across the country, not having the option to speak in the performance was, at first, jarring.
"Once you accept it and explore it, it's actually very freeing," Rink said. "You realize that this universal human language of physicality and interaction is there, but we get caught up in words and images and other things that get in the way of that."
Along with the percussive four-piece band to keep the pulse of the show and light cues, the Blue Man Group will be using playful gestures and a "troublemaker attitude" to communicate with the Lied Center audience during two performances at 7:30 p.m. Monday and Tuesday.
While it's about providing the all-ages crowd with a great evening, a much deeper goal is at hand for the three men who aren't afraid to make fools out of themselves. It's about exploring what makes all of us human, Rink said, and forgetting our egos while we experience vulnerability.
"Little kids get it," he said. "For adults, we are trying to get in past social barriers that we all put up. We want them to come out of the show feeling renewed and excited, and not quite sure what happened. Like they just got off the roller coaster and are feeling a little shaky."
Anatomy of a Blue Man
The three parts that make up a Blue Man, according to Blue Man Group veteran Russell Rink:
Part child: "The Blue Man has that innocence and sense of play, imagination and creativity that children have without worrying about what people think. Kids just make a painting without necessarily worrying about how it looks or what people are going to say about it. They just do it. And they are not self-aware, they don't have an ego."
Part animal: "Very primal, like a dog who thinks, 'where's the ball, where's the ball, where's the ball.' They have that animalistic drive."
Part superhero: "These three characters are trying to address the needs of the audience. They need to connect with one another and themselves, and they need to remember what's important in life and have an exuberant experience. So we're out there focusing on them and trying to make something happen for others."