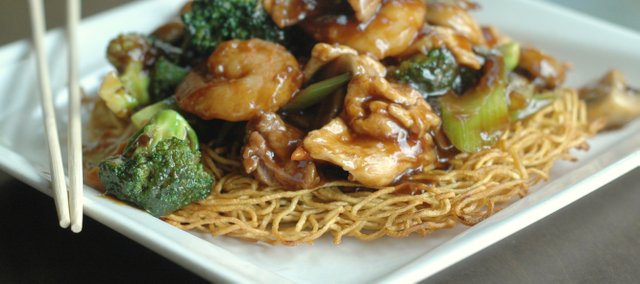 Thursday, September 19, 2013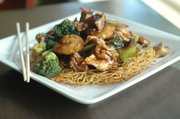 Most any noodles, any way, are tasty and satisfying. But some are more fun than others, namely if they're shaped and fried to form a thick, crispy nest for the rest of the food on your plate. The Bird's Nest Noodles at Encore Café come topped with a heaping helping of shrimp, beef, chicken and vegetables stir-fried in a rich brown garlic sauce.
Where to get it: Encore Café, 1007 Massachusetts St.
What you'll pay: $10.25
Try it with: Bubble tea. Encore Café has a variety of flavors, from taro to lychee.
Also on the menu: About a dozen other Asian noodle dishes, gyoza (potstickers), rice dishes in bamboo pots, Bento Boxes and entrees — from common Chinese favorites to more unique offerings like Black Pepper Short Ribs and Mango Shrimp.
— Off The Beaten Plate highlights some of the more exotic, oddly named or inventively concocted dishes from local menus. Know of an offbeat item we should check out? Email food and features reporter Sara Shepherd at sshepherd@ljworld.com. Follow her at Twitter.com/saramarieshep.