Thursday, September 19, 2013
Being located in the heart of the Midwest means a couple of things for us Lawrencians:
1) It's pretty easy to find a darn good beef burger in this town, and

2) Fresh seafood is hard to come by (and no, that catfish you caught at Clinton Lake doesn't count as fresh seafood). That being said, I'm impressed with the sushi I've had at Yokohama Sushi. On the days when a hamburger just won't satisfy (I admit, those days are rare — ha!), I often turn to Yokohama.
While we usually call in our order for pick-up, on this particular night we decided to dine out. After all, Yokohama is a large restaurant complete with alcoholic bar, sushi bar, tatami rooms (with traditional floor-seating) and, of course, basic tables and booths. We took a table near the entrance and began to peruse the menu, and what a menu it is! Cold and hot appetizers, salads, nigiri, regular rolls, noodles, Korean specialty plates and even a kids menu, to name a few of the options. It's apparent that Yokohama covers Asian fusion, Japanese, Korean and sushi bar.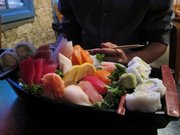 Even with so many enticing options, I decided to go with my regular order. Why mess with a good thing, right? A hefty appetizer of edamame followed by a spicy tuna roll for me. The mister, however, decided to go all out: the small sushi sashimi boat for him, please and thank you! (yeah, a BOAT, I was a slightly envious...) And because it was Friday, we ordered a couple of beers while we waited for our orders to arrive.
It wasn't long at all before our food arrived, and the presentation was delightful. The edamame is always just as tasty as ever, and my spicy tuna rolls appear extra large and taste perfectly spicy. But then there is the "small" sushi sashimi boat that my husband ordered, and it is one colorful mess of excellence.
The sashimi (raw fish) and nigiri (raw fish with rice) appear in shades of pink and orange, flanked by California rolls. I tell you what, this ship was ready to set sail. Lucky me, I got to help make sure no sushi roll was left behind.
Yokohama does list desert on their menu, but there was no need to even flirt with the options; we were full. After the beers, my edamame and spicy tuna roll, and the sushi sashimi boat, our total came to $53.92 ($63 with tip). Considering the burger-to-sushi-restaurant ratio in town (it's got to be something like three to one), that isn't too bad for a special date night out. 
— Jessica Pauly, aka Mrs. Mass., gives her thoughts on shopping, urban living and what's new in Lawrence in CheckOut weekly and on her blog, mrsmass.com.
More like this story on Lawrence.com