Thursday, September 26, 2013
Autumn is my favorite season. The colors are vibrant, the weather gets chilly and it's such a delight to decorate for the holidays. Finding the right floral arrangement for the entryway or centerpiece for the Thanksgiving table can be quite the fun challenge.
If you're like me, you may need some visual inspiration to get into the mood and generate some crafty ways to decorate. Fortunately, M.Street Interiors is at your service for this exact purpose.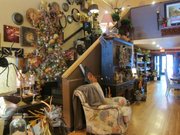 Previously known as BIAO Designs (they changed their name last year), M.Street Interiors is in its third year as a full-service design company. Offering furniture and accessories, window treatments, custom florals, custom bedding and seasonal decorating, this shop is prepared to make your house a home. They even offer in-home consultations in case you need a little design guidance.
I recently checked out M.Street Interiors with my mom while she was in town visiting, knowing full well that we would both find plenty to admire. Little did I know I would have such a tough time leaving the shop!
Plush chairs, rustic clocks, autumn wreaths — it was the perfect recipe for a cozy home on a fall day. There were lamps scattered throughout the expansive store, and between the easy-listening music in the background and the fresh scent in the air, I soon created my own little fantasy world where my home was a perfect mixture of all things from M.Street Interiors (yes, got carried away a little bit).
There is plenty of everything to be found here. Some of the items I was drawn to were the rug selection on the second floor of the store (yes, there's an upstairs to this store), the animal canvas prints along the wall of the staircase, and the small Halloween decorations found throughout (spiders on the lamp shades, pumpkin-man figurines, etc.).
In the end, I found a couple of small, metal mice (believe it or not) that I couldn't leave without. They seem like the perfect home accent for Halloween, or — as the manager suggested to me while I was checking out — a festive addition to a cheese plate at a party! At $4.95 each, my total for this trip was $10.76 (after tax).
It's great to have a local home decor shop on Mass. Street, and now is the time to freshen up your home with seasonal goodies.
If you're interested in seeing how M.Street Interiors prepares for holiday time, don't miss their holiday open house Oct. 25 and 26.
Wishing you a festive and cozy autumn season, Lawrence!
— Jessica Pauly, aka Mrs. Mass., gives her thoughts on shopping, urban living and what's new in Lawrence in CheckOut weekly and on her blog, mrsmass.com.