Thursday, September 26, 2013
This month's Final Friday events get an early start tonight with a joint venture from The Invisible Hand Gallery and Liberty Hall. They will co-host a program featuring the films of Mike Anderson at 7 p.m. at Liberty Hall, 644 Massachusetts St.
Anderson, the Brooklyn, N.Y.-based artist known for his short art films and music videos, will speak after the showing. Through his film installation, Anderson offers an opportunity for the viewer to become immersed in his constructed universe, challenging their perception of the physically real and unreal by skillfully rendering a digital environment.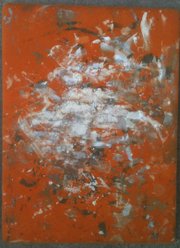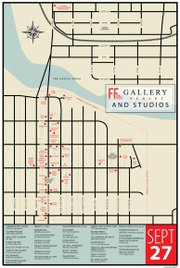 Originally a painter, Anderson applies his knowledge of the medium when using digital film software.
"Being able to share yourself with somebody else is what makes us into a society instead of a collection of individuals," he says in his artist's statement.
Anderson's short film, "The Giant," will again be shown Friday at The Invisible Hand Gallery, which has moved to its new location in the Cider Gallery, 810 Pennsylvania St. Source materials from "The Giant" will also be displayed.
Another venue showcasing filmmakers this month is The Replay Lounge, 946 Massachusetts St., which is hosting "Femme Fatale Friday," a series of films created by Women of Lawrence Film (WOLF), an organization dedicated to the education and support of women interested in the art and craft of filmmaking.
Screenings will begin at 5 p.m. with repeat showings at 6 p.m. and 7 p.m. A Q&A; with the filmmakers will follow each screening.

• Wonder Fair is getting a head start on Halloween with the opening of the Dead End Diner in the gallery's back space. The Dead End Diner is a ghostly collaboration of several artists including Dustin Williams, illustrator Cameron Lamontagne and sound artist Jon Linn.
The front space of Wonder Fair will be filled with the work of Alex Schubert, Kenneth Kupfer and John Malta, artists and illustrators who are showcasing their "Greatest Hits," artwork that has appeared in a range of publications from The New York Times to their own alternative comics.
While the works are from different artists and appeared in a variety of publications, the artists share a history of having been kids in the 1980s and early 1990s and raised on a diet of mainstream video games and underground comics.
• The Phoenix Gallery, 825 Massachusetts St., is featuring the work of several area artists including potter Dilesh Fernando, glass artist Ben Kappen and photographer Don Stevanov.
Phoenix Underground is displaying the work of Kaylyn Munro, who studied printmaking and painting at KU before going on to study architecture, an area in which she has worked for 25 years. Her artwork has been a part of numerous regional and national shows and is in the hands of private collectors throughout the United States and beyond, including Hong Kong.
The Phoenix will also host local musician and artist Ardys Ramberg, who will perform some original songs. Wheatfields will provide breads and spreads for Final Friday visitors.
• A new venue downtown, the Rockin Parrot, 1027 Massachusetts St., will exhibit the photography of Diana Lehmann who loves taking pictures that show off and highlight the beauty of Kansas.
• Henry's coffee shop, 11 E. Eighth St., has an unusual show by artist Mark Collins, a Memphis native who moved to Lawrence two years ago. Some time ago, Collins began to take note of the colors and patterns of paint that were appearing on his shirts as he went about his work as a house painter. Moved by the uniqueness of each piece, he started to collect them.
No conscious decisions were ever made in the creation of any of the shirts, which would be retired when they became worn out or too heavy.
He got to thinking about the tremendous amount of work the shirts represented and the acquisition of skill and confidence embodied by each. He mounted them to boards to create his show "From the Field," which will open Friday night. "I feel the visceral changes it has made in me. I feel the knowledge of a craft and the business of that craft," he says in a statement.