Friday, September 27, 2013
Photo Gallery
Final Fridays celebrates three years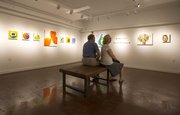 Scenes from the August 2013 Final Fridays event, which has grown in participation since its beginning three years ago.
If you go
Venues around downtown are planning open houses during the September Final Fridays event, scheduled for 5 p.m. to 9 p.m. today.
For the Journal-World's monthly Final Fridays preview, a complete list and map of participating locations, and other Final Fridays coverage, go online to Lawrence.com. Click on 'Arts,' then 'Final Fridays.' Or check out the calendar here.
Lawrence artist and gallery owner Louis Copt describes the early days of Final Fridays as "sparse." That goes for participating venues and foot traffic alike.
"Nowadays, it's impossible for everybody to get to all the galleries in one night," Copt said. "You kind of have to pick and choose — which is, I guess, a good problem."
Final Fridays, which celebrated its third anniversary last month, has grown into a buzzworthy monthly event for downtown Lawrence. Organizers hope the momentum will continue, boosting exposure for local artists plus increasing the kind of vibrancy that attracts visitors and new residents to town.
Final Fridays is an event that people have come to expect, which fulfills a major goal, said Susan Tate, executive director of the Lawrence Arts Center, which established the event with the city and Downtown Lawrence Inc.
"We are all committed to it and committed to its growth," Tate said.
By the numbers
Participating venues have multiplied from a handful to routinely more than 20. Those include art galleries as well as other businesses displaying art and planning activities.
The number of attendees has grown, too.
In particular, Tate said, there's noticeably more foot traffic along the numbered streets between Massachusetts Street and the Warehouse Arts District in East Lawrence.
One of the biggest Final Fridays gathering of artists, the Lawrence Art Party, happens monthly at 512 E. Ninth St., home of Lawrence Creates Makerspace.
The first Art Party had maybe five artists and 50 attendees, organizer Eric Kirkendall said. Now, he said, the Art Party regularly has 25 artists and 500 or more visitors throughout the night.
"It's grown exponentially," Kirkendall said.
Copt said he, too, has more traffic at his Copt-Fieden Gallery, 800 Massachusetts St. Besides Saturdays — and extended hours during the holiday season — Copt-Fieden is only open during Final Fridays.
"It's just unbelievable how many people come by," Copt said. "It has just grown like crazy."
A night out
Sue Shea, gallery manager for the Phoenix Gallery at 825 Massachusetts St., said she's noticed a distinct early crowd coming in before hitting a restaurant for dinner or drinks, and a late crowd doing it the other way around. She and other gallery managers also say they're seeing more and more visitors from surrounding cities.
"They're kind of making an evening of it," Shea said. "Overall, downtown is busier. So I think it's had a positive effect."
Gallery managers say Final Fridays helps sales, too, sometimes in a more direct way than others.
Most people, for example, aren't positioned to walk in and buy a multithousand dollar painting from Copt-Fieden Gallery on a whim. But Final Fridays gets people in the door, and some serious buyers come back another day, Copt said.
At the Phoenix Gallery, sales are higher during Final Fridays, partly because people like to buy from artists they're meeting in person, Shea said.
At the same time, sales aren't the main focus, she said. The Phoenix Gallery — like many venues that attract the most visitors — brings together artists, music and food to create a fun experience that encourages people to linger and enjoy the night.
Ripple effects?
Kirkendall himself moved to Lawrence because he was drawn to its culture and creative people.
"Creativity is Lawrence's competitive advantage, and Final Fridays is one way to showcase it and bring a lot of people to town," he said. "I think it has ramifications far beyond what happens on that one Friday night."
The Lawrence Cultural District task force is looking into ways to specifically quantify the effects of Final Fridays and other Cultural District activities on our community, Tate said. However, she said, she anticipates results will reflect national studies.
"The benefits are clear," she said. "When artists are visible, it makes a place more interesting, and it becomes a place where we really want to spend time."