Sunday, September 29, 2013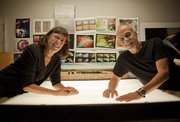 Photo Gallery
Forcade photography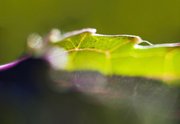 Tim and Betsy Forcade work together every day yet have very different photography styles. Tim does large-scale non-representational photos in which light and color are the subject; Betsy's favorite subject is landscapes, especially the Flint Hills of Kansas.
Tim and Betsy Forcade's walk-out basement is a mélange of light tables and frames, cutting mats and computers, lenses and strobes. There's watercolor-like abstract photos thumb-tacked here, an unframed image of cattle in a field leaning there.
The Forcades' version of his and hers has a lot of overlap.
The couple are both photographers — his photos are the abstracts, hers the landscapes. They're also best friends, business partners, husband and wife and, in general, unabashedly "joined at the hip."
Whether shooting together in Japan, Hawaii, the Kansas Flint Hills or the Pooch Plunge at the Lawrence Outdoor Aquatic Center, the Forcades have fun.
"Being together with our cameras ... it's this kind of really wonderful companionship process," Betsy says.
That said, the Forcades' see things differently through their respective lenses. She's likely to be standing back to get the big picture, while he's getting up close to things — very close.
Light over matter
Tim majored in painting at Kansas University. But it was a gig creating traveling light shows for a band called the Blue Things that set the tone for his art photography.
He started Forcade Associates in 1977 and for decades made a living off commercial photography — depicting Payless Shoes, medical devices and objects from Macy's as clearly and recognizably as possible. His personal photography is the opposite.
Using macro lenses in combination with other equipment, Tim shoots extreme close-ups of water, plants and other objects. Rather than show what the object is, he looks to show how light and color play off it. The resulting images resemble abstract paintings.
Usually only a sliver of the subject is in sharp focus, if any at all. Textures, colors and — above all — light shimmering and pooling around them fill the frame.
"The degree to which any object photographed may be recognizable is of no consequence," Tim says. "I do not intend to make pictures of object. Rather, I intend to isolate light as objects affect it."
Digital enhancement is minimal, Tim said. The painterly effects are created almost completely through his camera, with little more than adjusting colors happening on the computer. His most recent work is printed on large-scale swaths of satin, chosen for the material's luminosity, then finished with lacquer.

Kim Weinberger of Weinberger Fine Art in Kansas City, Mo., and the Cider Gallery in Lawrence represents Tim. She says there's something "undeniably intimate" about his art.
"He is a purist, and these fleeting worlds he creates and then captures are documented exactly how he sees them — we see what the artist sees in these moments of light," she says. "What a rare experience in these digital times. And what a wonderful reminder of all the wonders that are out there in this world, buzzing around us each day. One reflects on the magic of leaves in a bucket. Of the impermanence of every moment. Of the possibilities of light."
Apprentice to artist
Betsy had a camera in her early 20s, experimented with it for a while, then left it by the wayside. She was a school psychologist when she met Tim but soon quit to start working with him — basically, they didn't want to be apart.
"Happily," Tim says, "it turns out that she has an exceptionally good eye for photography."
Initially, Betsy helped Tim with the commercial work, but she'd always felt intimidated by the big, professional film cameras he used. When he switched to digital, she started shooting more on her own.
"It was so much easier to learn," Betsy says.
Her favorite subjects are from nature, landscapes and animals — either the couple's cats or animals in the wild.
She and Tim shoot on vacations and in free time. A favorite spot of Betsy's is the Kansas Flint Hills, where the couple take their cameras off the beaten path in all seasons and times of day.
"I love being able to watch what happens to the sun, to the shadows," Betsy says. "Just the awesomeness of places we've been."
That, she says, is what she loves capturing to share with others.
Teamwork
Tim and Betsy met at the Jazzhaus in 1984, introduced by a mutual friend. Betsy says Tim was charismatic, engaging and "hilarious." Tim says he fell instantly for Betsy, who was "the whole package."
"She's really, really smart," Tim says. "I'm constantly learning from her."
"Well," Betsy chimes in, "and vice versa."
To a visitor in their studio, each is as likely to tout the other's handiwork as his or her own.
Tim is stacking one of Betsy's Flint Hills photos on a mat in a frame — proudly showing how the finished product will look on the wall — and pointing out how the same spot can look like different worlds in different light and different seasons.
Betsy is looking at a large abstract photo of a red Asiatic lily — which she's seen many times — as if it's brand new. While she looks, she explains what captivates her about her husband's work.
"It's like bringing us in to a glimpse of another world," she says. "It's this world that we don't normally get to experience."