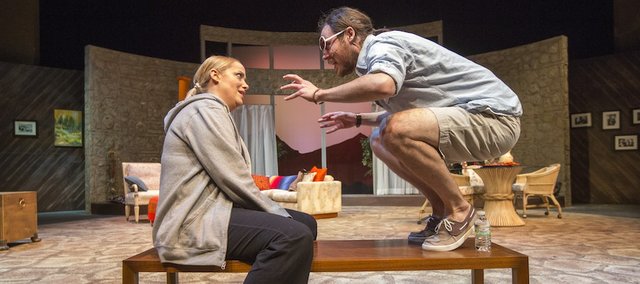 Today in Lawrence is an early-morning digest of essential and not-so-essential info to start your day in Lawrence and Douglas County. Click here for past installments.
To storm or not to storm
"Oh spring, foul spring, why hath thee betrayed me?" - Actual line from Hamlet. Or not. But the past few days of Lawrence weather would have given the Bard ample ammo for a sequel to "The Tempest." Today's installment: high of 61 (+), relatively calm winds (+) and hideous thunderstorms (-). Overnight low near 50, then more lightning tomorrow. Take cover.
Speaking of the stage ...
At 5:30 p.m., Theatre Lawrence, 4660 Bauer Farm Drive, invites the public to attend its Season Announcement Party (indoors). What strange acts be on the horizon? Avast, ye F. Scott Fitzgerald? Why are we talking like pirates? Head to the party to find out more.
Varsity blues
Or, if the big, important questions of our day are more your style, check out the Dole Institute's "The Business of College Athletics: Should Student Athletes be Paid?" The free discussion starts at 7:30 at 2350 Petefish Drive. Experts Marc Edelman and Alicia Jessop will weigh in in the wake of Andrew Wiggins' and Joel Embiid's flight from KU to, likely, big NBA paydays.
Vote now
Finally, while you're ducking lightning bolts, take a few minutes to vote in the 2014 Best of Lawrence contest. We're counting on your vote for best Today in Lawrence feature on a local news website. Also, best male tutu (don't you dare judge us!).
Yesterday's most-read
More April 2 events
Social Media Club: The 411 on Snapchat & Whatsapp, 7:30 a.m., Sandbar Sub Shop, 745 New Hampshire St.
Professional Edge 2014 Breakfast Series: Blane Harding, director, KU Office of Multicultural Affairs, 8 a.m., KU Edwards Campus, 12600 Quivira Road, Overland Park.
1 Million Cups presentation, 9-10 a.m., Cider Gallery, 810 Pennsylvania St.
University-Community Forum: The Bible: What it is, where it came from, and how Americans use (and misuse) it, 11:30 a.m.-1 p.m., ECM Building, 1204 Oread Ave.
Big Brothers Big Sisters of Douglas County volunteer information, noon, 2518 Ridge Court.
OWL (formerly known as Older Women's League): "Walkability & Livability," 1:30-4 p.m., United Way Building, 2518 Ridge Ct.
Dole Study Group: The Brave New World of Political Communications: Lessons from the Obama Campaigns, 4 p.m., Dole Institute, 2350 Petefish Drive.
Faith Forum: Eyyup Essen, "Lessons from Doing Interfaith Dialogues," 6:30-8 p.m., Ecumenical Campus Ministries, 1204 Oread Ave.
The Beerbellies, 6:30-9:30 p.m., Johnny's Tavern, 401 N. Second St.
Douglas County Commission meeting, 6:35 p.m., Douglas County Courthouse, 1100 Massachusetts St.
Lawrence Apple Users' Group 2.0: "Popcorn and a Movie," 7 p.m., Douglas County Senior Services, 745 Vermont St.
Jam: Americana / Greg Pelligreen & Friends, 7-9 p.m., Cutter's Smoke House, 218 E. 20th St., Eudora.
The Business of College Athletes: Should Student Athletes be Paid? 7:30 p.m., Dole Institute, 2350 Petefish Dr.
Center for East Asian Studies Lecture: Japan's Ongoing 3.11 Nuclear Disaster, 7:30-9 p.m., Malott Room, Kansas Union, 1301 Jayhawk Blvd.
Conroy's Trivia, 7:30 p.m., Conroy's Pub, 3115 W. Sixth St.
Pride Night, 9 p.m., Wilde's Chateau, 2412 Iowa St.