Girls who want a red carpet look like Lupita Nyong'o this prom season need look no further than Weaver's, 901 Massachusetts St.
Weaver's carries an orange layered dress similar to one Nyong'o wore on the red carpet, and for less than $100.
The low neckline and bright color make this outfit a fashion statement. This look could be worn for a formal dance, a night on the town or to a wedding.
Weaver's department manager Janet Mihalchik said her customers don't typically come in for a specific red carpet look. But when you browse the gowns on Weaver's second floor, it's easy to find several that match Nyong'o's style. From princess-style gowns like the one Nyong'o wore at this year's Oscars to strapless, bold colored dresses like she wore at the Golden Globes, Weaver's has a variety of dresses that match Nyong'o's confident look.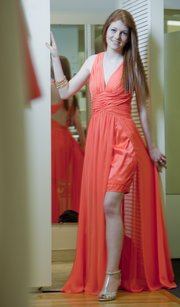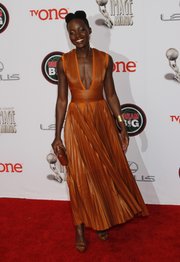 Nyong'o became known in the fashion world during this year's award season, where she captured the best supporting actress Academy Award for her performance in "12 Years a Slave." Nyong'o has a classic look that's sleek and sophisticated, yet fun and unassuming. She achieves this by wearing bright, solid colors or black-and-white block prints.
The Hollywood Reporter recently named Nyong'o's stylist, Macaela Erlanger, as one of Hollywood's top three.
Erlanger told Vanity Fair the secret to any celebrity style, including Nyong'o's, is to find a look that matches the celebrity's personality.
"It's about understanding who they are and their individual style, and translating that to the carpet," Erlanger told Vanity Fair.
Mihalchik recommends the same approach for girls who come in to find prom dresses. While girls may look to celebrities for inspiration, Mihalchik said, they ultimately want a look that is unique to them.
Weaver's has a book in its formal department that keeps track of all the gowns girls purchase for prom to ensure that no two girls from the same high school buy the same dress.
"It's called 'The Book,'" Mihalchik said. "It's very popular in our area."
Girls who want to replicate Nyong'o's style this prom season should gravitate toward bold colors that make a statement.
And Nyong'o's style wouldn't be complete without the signature lip gloss she gave to Ellen DeGeneres during this year's Oscars. Clarins HydraQuench Moisture Replenishing lip balm retails online for $24.
— Arley Hoskin prides herself in finding trendy styles on a journalist's budget.