One of the charming aspects of downtown Lawrence is the variety of shops we have sprinkled from Sixth to 12th streets, between Vermont and New Hampshire.
Vintage, cooking, candles, shoes, KU apparel — I could go on, but the truth is we have no shortage of specialty boutiques!
But I have to admit, I have a distinct appreciation for the shops that offer something a little different and unexpected. Walking into a store full of quirky items I didn't know I needed always strikes my fancy. Considering this, it's no wonder I recently found myself enchanted while roaming around Cindy's Simple Life.
I had an inkling this visit might provide a rich opportunity to pick up a few birthday gifts for friends. The truth is, I don't think I could have chosen a better shop for this very purpose! With unique greeting cards, journals, toys (for adult kids, and little kids), home goods, bath/body products, collectibles and even dog accessories and treats, this place has truly fantastic items.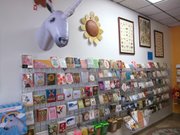 During my visit, Tom Luxem, co-owner of Cindy's Simple Life, said some of the more popular items have been the greeting cards, beautiful (frame-worthy!) wrapping paper and S'well bottles (good for cold water, or hot coffee).
Cindy's Simple Life is a self-proclaimed "Urban General Store," and it's obvious from the minute you walk into the shop.
The store has an open floor plan, and the skylight brings additional warmth to the already cozy environment. The inventory is neatly organized on adjustable wire shelves throughout the space that make browsing easy.
Now consider all of this with the colorful flowers and peace signs decorating the walls, and it completes that welcoming feeling — and simplicity — of small town living.
Cindy's Simple Life is a happy little shop, and I enjoyed every minute I spent there (if you must know, I got carried away, so it was like 45 minutes). More importantly, I was able to successfully score some funky/thoughtful/useful gifts (isn't it great when things actually can live up to your expectations?) for a couple of my friends who have birthdays on the horizon.
If you're in the market for some gift items or just want to have fun browsing, you ought to stop by the store. While it's efficient to shop specific stores for specific items, it can be incredibly relieving to get lost in the unexpected, too.
— Jessica Pauly, aka Mrs. Mass., gives her thoughts on shopping, urban living and what's new in Lawrence in CheckOut weekly and on her blog, mrsmass.com.