With spring approaching and the weather warming, it's finally (hallelujah) time to trade in your boots for some springier footwear. And while boat shoes have been the go-to shoe for most men in recent years, this spring solidly belongs to the classic plimsoll.
So, what is a plimsoll? Chances are you have already seen these shoes around town, but might not have known exactly what they were called.
At its most basic, a plimsoll is any shoe with a canvas upper and rubber sole. But while plimsolls come in a variety of styles and brands, the style's defining feature is its signature saddle stitching that runs across the top length of the shoe. This stitching separates it from its close cousin the espadrille, made popular by Toms Shoes, which is typically constructed with a rope (rather than rubber) sole.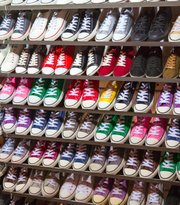 The most popular plimsoll has been the classic and comfortable Converse All-Star, with options from Sperry, Vans and Keds becoming increasingly popular.
The plimsoll first made a splash along the shores of the United Kingdom when the Liverpool Rubber Company marketed the shoe as beachwear in the 1830s. It was not until the 1870s that what had simply been known as a "sand shoe" took the name "plimsoll."
The story goes that the shoe's colorized horizontal line connecting the sole to the upper so resembled a ship's Plimsoll, or water line, that folks began referring to the shoes as such.
Today, there is no shortage of brands selling plimsolls. Across Lawrence, Shark's Surf Shop, 813 Massachusetts St., is a great place to start your search. In addition to the classic Converse All-Star ($52), the store sells a variety of plimsolls by Vans ($45) and Sperry ($60), which are great options if you have a clown complex that prevents you from purchasing All-Stars with their defining white tips. Keds (yes, the shoes you wore as a kid) has also begun marketing its own version of the plimsoll, available online.
Here are a few basic guidelines to consider when choosing and wearing a plimsoll:
• Plimsolls are at their best in neutral colors. The first pair I owned were plain gray, and they go with nearly everything. Blues are another great option and pair well with gray, navy and khaki shorts, while creams and charcoal blacks round out any spring and summer wardrobe. If you're feeling sartorially confident, try a pair that mixes patterns and solid colors.
• While plimsolls can be worn with nearly any pant cut, they look their finest with slimmer jeans or shorts. Don't get too matchy with your shoes, though. Let them either take a backstage or provide a nice splash of color with more neutral clothing.
• I think the most common question people have with plimsolls is whether to wear socks. The short answer is yes. Not any sock will do, though. You'll need to purchase a pair of no-show or loafer socks to keep your shoes stink-free for years to come.
— Nicholas Cunigan is a Ph.D. candidate in early American history at Kansas University. He blends classic fashion with modern details on a low-cost budget.