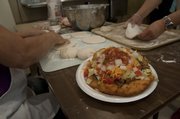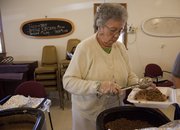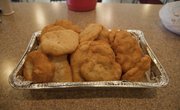 If you go
The Lawrence Indian United Methodist Church's Indian Taco Sales run from 11 a.m. to 6 p.m. the second Friday of every month at the church, 950 E. 21st St. Tacos are $7 each and can be carried out or eaten in the church's dining hall.
If your Indian taco fry bread is thinner and crispier, the woman who makes it the Navajo way probably patted out that round of dough before it hit the oil.
Otherwise that fry bread will probably be fat and puffy, the Choctaw style the late Richard Morris taught in the 30 or so years he was head fry bread maker for the Lawrence Indian United Methodist Church's monthly taco sales.
Morris died last fall, but the taco sales continue on as they have since 1982. Not only are they a chance for locals to indulge in a dish rarely found on restaurant menus but these sales also practically built the church.
Among other things, tacos helped remodel the church's current building at 950 E. 21st St., pastor Jami Moss said. The next project will be repairing a storage shed out back, and eventually putting a new roof on the parsonage.
"There's always something you need to fix," Moss said. "That money comes in handy."
After years of selling tacos for $5, the church just upped the price to $7 apiece.
On a good day they sell more than 100 carryout orders, plus many more tacos eaten in the church dining hall, said Frances Girty, longtime church member and sale volunteer. As for adding more sale dates, though, that's probably not going to happen.
"We've been asked to do that," Girty said. "It's a lot of work."
The sales run from 11 a.m. to 6 p.m. the second Friday of each month. Volunteers start prepping days in advance, Girty said, cleaning and soaking the pinto beans on Wednesday, chopping and cooking vegetables and beef on Thursday and arriving at 7:30 a.m. to start making fry bread and setting up on Friday.
"Everything is made by hand," Girty said.
Denise Chavez took over fry bread making when Morris passed away. He was a longtime food service employee at Haskell Indian Nations University and liked his bread just-so, she said. Although a few volunteers put their own spin on forming the rounds, they've stuck with Morris' recipe — and go through 40 to 50 pounds of flour for each sale, Chavez said.
Community members from retirees to police officers to downtown business employees turn out for taco day, Moss said. Of course there are also hungry neighbors and church members.
"We all have fun," Moss said. "It makes for good fellowship."