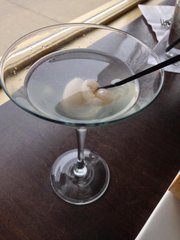 Like any good spring cocktail, this one hits the three necessary qualities: light, fruity and refreshing. The menu says the New Moon martini at Encore is made with a secret recipe using vodka and a lychee fruit garnish, but from my drinking expertise, it seems that the only additional ingredient is a splash of lychee juice or syrup.
The lychee fruit native to provinces in China is covered by a pink rind covering white flesh, and is juicy with a faint floral fragrance perfect for the season. No need for any fancy infusions; this exotic libation will satisfy your sweet tooth while getting you that pleasant tipsy you're looking for.
The hard stuff: Vodka
Where it's served: Encore Cafe, 1007 Massachusetts St.
What it costs: $8, plus tax
Other libations at this location: A variety of specialty martinis including the Lush Strawberry Martini, Pink Lady, Baby Jay, Zentini (guaranteed to leave you "zenergized"), and the James Bond, which is exactly what you think it is. The drink menu also includes specialty cocktails like their take on the classic Long Island in the Dragon Iced Tea with strawberry and dragonfruit, and an Encore, which is a citrusy rum-based beverage.

— Drink up. Stay classy. Don't forget to tip your bartender. And let us know if you want to suggest a libation for this feature — email nimafidon@ljworld.com or Tweet her at Twitter.com/nadia_imafidon. Cheers.