Spring weather is upon us, meaning picnics are right behind it as parks fill with families, friends and couples who have been eager to soak up any sun they can get. Whether you're headed to an outdoor concert or simply a leisure outing with a loved one, it's never a bad idea to pack some treats. There is no scientific formula for putting together the perfect picnic basket, but let this list of European goodies from Au Marche, 931 Massachusetts St., spark some creative ideas to fit your tastes.
Lora Wiley, owner of Au Marche, imagined two scenarios, with some interchangeable items. The first, a picnic in the backyard with her husband and children. With a quick switch of a few items, the picnic becomes a cozy, romantic outdoor date with her husband (pay attention to the modifications):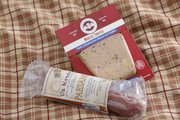 Fine meats
Un Mondo Salami-Paesano
It's one of the most common picnic purchases, yes, but for good reason. Slice up the spiced meat ahead of time and bag or bring a small cutting board and knife, which will come in handy for some of your other favorite goods. Pair with cheese and crackers for the whole family to enjoy. No muss, no fuss.
Trois Petits Cochons Pate
Pate is not exactly the most appealing food for kids, Wiley says, but that doesn't mean the parents shouldn't get to savor a nice French spread. Just pack a knife and spread on some crackers or bread, or use as a spread in your favorite sandwich.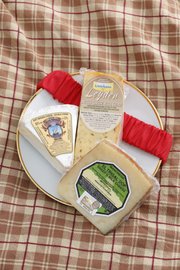 Cheese
El Trigal Manchego (Spain) or Uniekaas Holland Leyden
We've already packed the meat, which means we definitely need to have cheese (next comes wine…). Whether you select the semi-soft Spanish cheese or the cumin-spiced Dutch option or both, you've got the most delectable dairy items at your disposable.
D'Amir Brie
If it's going to be a romantic picnic, opt for a softer cheese like Brie, Wiley says. It's not up for debate that the French know their cheese, and it seems that must be directly correlated with the fact that they do romance so well. Brie is also the easiest cheese to pair with fruit (grapes and berries are finger foods), crackers, French bread and some nice dry white wine like Chardonnay or a red Bordeaux.
Bread
Pasquier Mini Toasts
Crusty and mild in taste, these mini toasts are made for pate spreads and any cheese your heart desires. It won't compete for attention (cheeses and meats will always win), but it will round out the entire snacking adventure as an elegant base to complement any topping. They are also almost too perfectly portable and bite-sized, two qualities to keep an eye out for when trying pack a no-fail picnic.
Condiment
Lars Spicy Brown Mustard
Need a little something extra to satisfy those taste buds? A little spicy brown mustard (Swedish) can go a long way. Plus, a bonus: it comes in a convenient squeeze bottle. Pop off the top and get crazy with your condiment.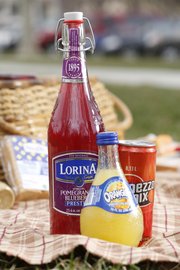 Beverages
Orangina or Mezzo Mix
Kid-friendly and delicious, try the fizzy orange juice Orangina (with pulp) or the Mezzo Mix, which, Wiley says, they have trouble keeping on the shelves. Mezzo Mix is a German Coca-Cola product that mixes coke and orange Fanta; its slogan is "Cola Kisses Orange." The combination is apparently fly-off-the-shelf impressive. Best to pack a few of these.
Sparkling pomegranate juice
If you're planning on sitting in the middle of South Park — where technically open container laws are still a real thing regardless of picnic festivities — and you still want to be fancy, bust out the kid-appropriate non-alcoholic bubbly and pour it up. There's something so glamorous about drinking out of champagne glasses regardless of their contents.
Red wine
If you are backyard bound or picnicking on private property, that romantic outing sure could use a nice glass or two of a sophisticated red wine. The acidity of the wine cuts the richness of the cheese and spiciness of the salami; it's practically a requirement to bring a bottle. Consider chilling beforehand and packing it in an insulated wine tote bag. Don't let it sit directly in the sunlight, and don't forget the corkscrew!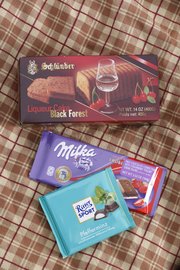 Desserts
Schlunder Black Forest Cake or Aviateur Apple Rounds
The black forest cake is great because even though it's not homemade it's extra moist, Wiley says, as it is packaged in a foil bag and can be sliced with a knife and distributed among the family.The Aviateur Apple Rounds are miniature apple pies from the Netherlands that are easy to pass out with napkins and hold in your hand (no dishes!) and satisfy your sweet tooth in perfect individual servings.
Other places to find picnic goods
The Merc, 901 Iowa St.
Quality, healthy and decadent food with a large selection of deli meats, baked goods, cheeses and produce. Whatever your picnic needs may be, The Merc has unique treats to satisfy your palate.
Farmer's Market, 842 New Hampshire St.
With 100+ local vendors peddling fresh food at a great value, support the community and fill your basket with a wide variety of fresh vegetables, fruits, meat, eggs, honey, wine and prepared foods. This year's Saturday morning market kicks off April 12.
Natural Grocers, 1301 W 23rd St.
Nutritious organic food items in a store with competitive weekly deals and an extensive bulk section. Keep in mind this store has bigger focus on mindful eats and vitamins than prepared food sections.
Brits, 929 Massachusetts St.
Find your favorite British goods (surprise) at Brits! A wide variety of teas and other beverages, meats, cheeses, biscuits, jams, crisps, chocolate and other sweets, here's another European picnic adventure at your disposal.
Chocolate
Milka chocolate with strawberry filling or Ritter Sport Pfefferminz Chocolate
Breaking off pieces of chocolate with friends is essentially breaking bread; there's no doubt this doesn't make the list of must-haves in the picnic basket. The best part about the peppermint chocolate (Ritter Sport Pfefferminz), Wiley says, is that people already throw it in the freezer after buying it for a cold snack. It won't melt in your basket on a hot day if it's been prepped in this way.
Christopher Elbow Artisanal Chocolates
These breathtaking painted chocolates are just the romantic cherry on top of a perfect picnic date. You know it's date-worthy when it's almost too beautiful to eat. Some of the delicious flavors include rosemary caramel, fresh lime-infused milk chocolate and raspberry-infused dark chocolate.