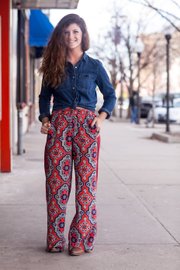 Name: Kaley Cornett
Age: Let's just say I'm not in college anymore.
Hometown: Ottawa
Time in Lawrence: A year and a half.
Occupation: Women's department manager at Urban Outfitters and photographer for KaleyfromKansas.com.
Dream job: Dream job would be to take over for Rachel Zoe or to shoot for Free People. 
What were you doing when scouted? I was floor supervising at Urban Outfitters.
Describe your style: Bohemian, free and feminine! I wear a lot of dresses, oversized and vintage pieces.
Fashion trends you love: White T-shirts, denim cutoffs, bedroom jackets, kimonos, florals, wide-leg trousers, tea-length skirts, Peter Pan collars and geometric patterns. 
Fashion trends you hate: I'm not a huge fan of mesh, neon, iridescence and luxe sweatshirts.
Fashion influences: I'm inspired by Mary-Kate and Ashley Olsen and their line, Elizabeth and James. Cynthia Rowley and Eric Daman are great designers. I'm also inspired by customers, couples I photograph, people I meet, and I gather a lot from style blogs.
What would you like to see more or less of in Lawrence? Randomly, I'd love to see food trucks in Lawrence! And, maybe more local bloggers would be kind of fun. Also, less paid parking!
Tattoos or piercings: I have my tragus pierced.
Whom do people say you look like? People say I look like Anna Kendrick, and one time I got Lorde. I think it's the hair!
What type of music do you like? I love folk and alternative mostly. Some bands I love right now are Local Natives, Daughter, Little Dragon and Phantogram.  
Tell us a secret: I normally color-coordinate my closet! I'm also left-handed and proud of it!