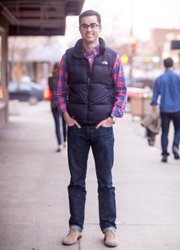 Name: Matt Moore
Age: 23
Hometown: Wichita
Time in Lawrence: Four years
Occupation: Professional medical student
What were you doing when scouted? Grabbing carryout.
Describe your style: Simple and understated. I don't like wearing clothes with logos on them.
Fashion trends you love: I don't really follow trends. 
Fashion trends you hate: I appreciate everyone's own style. I didn't like when girls wore those high-waisted jean shorts. I don't think sweats should be worn in public either, no matter what label is trying to peddle that movement.
Fashion influences: I follow a few blogs on the Internet. I'm a big fan of all the classics.
What would you like to see more or less of in Lawrence? Either be relaxed or be dressed up. Get rid of business casual!
Tattoos or piercings: Hell no.
Whom do people say you look like? My brother Joe. Or a white Tiger Woods.
What type of music do you like?  Electronic music, old hip-hop and classic rock.
Tell us a secret: I'm a huge fan of Janet Jackson's "Rhythm Nation."