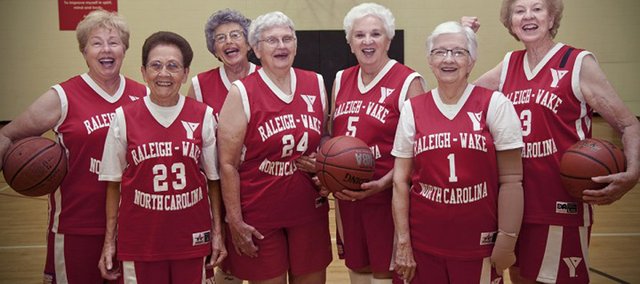 Today in Lawrence is an early-morning digest of essential and not-so-essential info to start your day in Lawrence and Douglas County. Click here for past installments.
Men are apes
It's your average love story: The owner of a jungle plantation marries a beautiful woman, then is transformed into a gorilla by a strange voodoo curse. At 6:30 p.m., see for yourself when the KU Natural History Museum, 1345 Jayhawk Blvd., screens "Bride of the Gorilla," starring Lon Chaney and Barbara Payton. Free to attend.
Women's studies
From 7 to 8:30 p.m. at Liberty Hall, 644 Massachusetts St., the 13th Annual LUNAFEST makes its stop through Lawrence with short films by, for, and about women. Tickets are $10 general admission, $7 students, with all proceeds benefiting the Breast Cancer Fund and GaDuGi SafeCenter, Willow Domestic Violence Center, and the Kansas Coalition against Sexual and Domestic Violence.
Faking it
And at 7:30 p.m., the Lied Center, 1600 Stewart Drive, will debut two days of "Broadway's Next H!T Musical." Master improvisers gather made-up, hit-song suggestions from the audience and create a spontaneous evening of music, humor and laughter. Tickets: $24 for adults, with discounts for students and seniors. More info here.
Yesterday's most-read
More April 3 events
Red Dog's Dog Days workout, 6 a.m., Allen Fieldhouse, 1651 Naismith Dr.
Story Time for Preschoolers, 10-10:30 a.m., Prairie Park Nature Center, 2730 Harper St.
Skillbuilders: Aging in Place, 10-11:30 a.m., Drury Place at Alvamar, 1510 St. Andrews Dr.
Fort Leavenworth Series: Decisive Battles: "Plattsburgh, 1814," 3 p.m., Dole Institute, 2350 Petefish Drive.
Cottin's Hardware Farmers Market - Indoors! 4-6 p.m., Cottin's Hardware and Rental, 1832 Massachusetts St.
The Open Tap, discussion of a selected religion topic, 5:30-7 p.m., 5 Bar and Tables, 947 Massachusetts St., free.
Baker University Community Choir Rehearsal, 6-8 p.m., McKibben Recital Hall (Owens Musical Arts Building), 408 Eighth St., Baldwin City.
Junkyard Jazz Band, 7 p.m., American Legion, 3408 W. Sixth St.
VFW Game Night, 7 p.m., VFW Post 852, 1801 Massachusetts St.
Free English as a Second Language class, 7-8 p.m., Plymouth Congregational Church, 925 Vermont St.
Affordable community Spanish class, 7-8 p.m., Plymouth Congregational Church, 925 Vermont St.
"All for you, Franz? From the Assassination of Archduke Franz Ferdinand to Total War," 7 p.m., Spencer Museum of Art Auditorium, 1301 Mississippi St.
Signs of Life Bluegrass Gospel Jam, 7-10 p.m., Signs of Life, 722 Massachusetts St.
Trivia Night, 8 p.m. The Burger Stand, 803 Massachusetts St.
Team trivia, 9 p.m., Johnny's West, 721 Wakarusa Drive.
Thursday Night Karaoke, 9 p.m., Wayne & Larry's Sports Bar & Grill, 933 Iowa St.