I often tell people about my reliance on visual devices and creative techniques in constructing my photographs. And, yes, for me, creating a photograph is like a construction site.
I will spot a subject that has some photographic interest, and I will consider the appropriate tools to build my photograph.
But instead of pulling out a hammer or saw, I might choose a unique lens, or employ a slow shutter speed, based on how it will render the subject. I might decide to use a flash to add dramatic lighting or a tripod for a long exposure. Each situation I'm in brings to mind numerous methods for photographing the subject. It's in those initial moments of observing a scene where I make decisions on what tools to employ.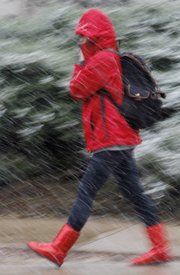 I'll describe this constructive approach to photography using a recent weather-related feature photograph. It was taken on the Kansas University campus during a late March snowfall.
As I stood along Jayhawk Boulevard and watched students passing by, I had three primary goals. One: I had to show the snow. Two: I needed to incorporate a person in the scene. Three: It had to be visually interesting. But snow is not always easy to capture in a photograph, and in this situation, the flakes were small and the snowfall was light.
First, I moved to a location where the background of my framed scene would include evergreen trees. This helped accent the snow.
Next, to incorporate people, I framed students walking in front of the evergreens. My initial images were visually boring and the snow was not very visible.
As I considered my creative options, a student in bright red boots and a red coat with a hood caught my eye. She was a hundred feet away and headed for my evergreen location. On a creative whim, I quickly changed my camera settings and chose a slow shutter speed. The slower shutter speed would expose the snowflakes for a longer amount of time, making them more visible.
With the slower shutter speed, I also opted to pan my camera with the subject. In photography, panning is when you use a slow shutter speed and, as the subject passes by you, you release the shutter while continuing to track the subject with your camera through the length of the exposure. Ideally, you get a result where the panned subject looks recognizable and in focus, while the surrounding scene is blurred, providing a sense of movement.
I managed to capture six frames, continually following the subject with my camera and a succession of shutter releases. In the best resulting image, the slow shutter speed elongated the snowflakes, making them more visible. The subject's outfit of red against the snow-covered evergreens added a visual contrast and the panning effect created an atmosphere of movement. I went with an aperture of f/18.0, shutter speed of 1/25th and ISO of 200.
My choice of tools and techniques helped create the framework for a successful photographic construction.