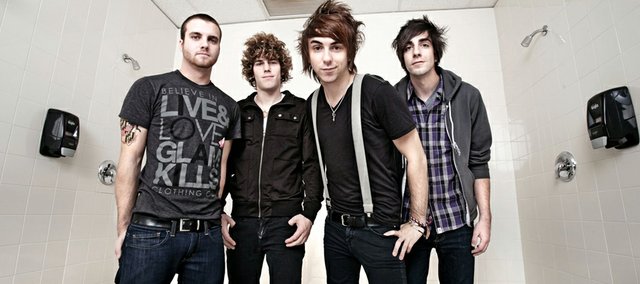 Today in Lawrence is an early-morning digest of essential and not-so-essential info to start your day in Lawrence and Douglas County. Click here for past installments.
Wonks and junkies
Want to know what really went down in the 2012 election? Then head to the Dole Institute, 2350 Petefish Drive, at 7:30 p.m., where political journalists Mark Halperin and John Heilemann will make their case for Romney vs. Obama. "Double Down: Game Change 2012" got the pair a $5 million advance and went on to multi-bestseller status. Free to attend, with a book sale and signing following the program.
Golden keys
Vadym Kholodenko is seriously on top of his game right now. The Ukrainian pianist recently won the gold medal at the Van Cliburn International Piano Competition, and now he'll be at the Lied Center, 1600 Stewart Drive, at 7:30 p.m. Tickets: $21 and up for adults, $11 and up for students. Catch a preview in the video to the left.
Low lives
Or, if you prefer pop punk to classical, head to The Granada at 8 p.m. to take in All Time Low with openers Man Overboard and Handguns. All Time Low's latest album, "Don't Panic," charted No. 3 Billboard Alternative, No. 4 Billboard Rock and No. 1 Billboard Indie. And frontman Alex Gaskarth is famous on Twitter. Tickets: The show is reportedly sold out, but you can try for $22 at the doors, which open at 7.
Yesterday's most-read
More April 8 events
Red Dog's Dog Days workout, 6 a.m., Allen Fieldhouse, 1651 Naismith Dr.
Coalition on Homeless Concerns monthly meeting, 3-5 p.m., Lawrence Community Shelter, 3655 E. 25th St.
Big Brothers Big Sisters of Douglas County volunteer information, 5:15 p.m., 2518 Ridge Court.
Art Discussion: Contemporary Reflections, 6-7 p.m., Mulvane Art Museum, 1700 SW College Blvd., Topeka.
Lonnie Ray's open jam session, 6-10 p.m., Slow Ride Roadhouse, 1350 N. Third St., no cover.
Lawrence City Commission meeting, 6:35 p.m., City Hall, 6 E. Sixth St.
Free English as a Second Language class, 7-8 p.m., Plymouth Congregational Church, 925 Vermont St.
Affordable community Spanish class, 7-8 p.m., Plymouth Congregational Church, 925 Vermont St.
Herbs study group, 7 p.m., Unitarian Fellowship, 1263 North 1100 Road.
KU School of Music Faculty Artist Series: Steve Leisring, trumpet, 7:30 p.m., Swarthout Recital Hall, Murphy Hall, 1530 Naismith Dr.
Tuesday Concert: Flint Gray, 7:30-8:30 p.m., Lawrence Arts Center, 940 New Hampshire St.
Gamer Night, 8 p.m., Burger Stand at the Casbah, 803 Massachusetts St., free.
Free swing dancing lessons and dance, 8-11 p.m., Kansas Room in the Kansas Union, 1301 Jayhawk Blvd.