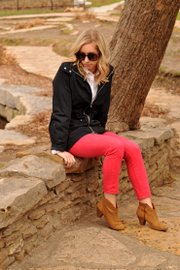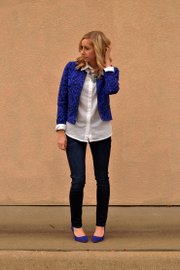 A white button-down shirt never goes out of style. Although each season may make it appear slightly updated, the original style can easily be worn year after year. We both love classic pieces because they can be worn so many different ways. The white button-down used to only be associated with office attire, but we have fun incorporating it into our everyday wear.
Pair it with a dress
Don't be afraid to use it as a layering piece. The collar can add that extra bit of sophistication to an otherwise casual dress. I layered my Gap sweatshirt dress over the button-down shirt and threw on some colorful flats to add brightness to the outfit.
You could use this idea with different styles of dresses as well. If you don't have a sweatshirt dress, a shift dress or sleeveless dress that you already own will work as well.
Dress it down
The white button-down shirt tends to tack on a business-y stereotype, but I quickly squashed that generalization by throwing on my windbreaker anorak jacket and colored skinny jeans. The ankle boots keep it even more casual.
I love the combination of colors in this outfit. Just think of your classic white shirt as a blank canvas and go from there.
Wear it with denim
Denim is always our go-to piece when we're stumped on how to style an outfit. Try a dark-wash skinny jean, or you could even wear this with a boyfriend jean.
For my look, a nicely tailored skinny jean and heels dressed it up a little. I layered a tailored jacket over the shirt, and I tied the whole look together with matching blue heels and a statement necklace. A quick style tip to make your outfit appear "put together" is to try matching two or three pieces like I did with the blues.
So there you have it. Although these stylish combinations only scratch the surface when incorporating your white button-downs into your outfits, you can still see how versatile they really are. So if you have one hanging in your closet, try one of these easy ways to style it; everyone will be asking where you got your new shirt!
— Emily and Elizabeth Kennedy are twin sisters and fashion bloggers who share a blog called Fashion Column Twins. Emily writes this column. They can be reached at ashioncolumnblog@gmail.com.