As Master Gardener Jim Harmon says, the Douglas County Master Gardener Spring Fair "is an excellent educational opportunity for anyone who wants to learn about gardening." Harmon is one of the lead organizers of the event, along with Master Gardeners Jane Cram and Lisa Larsen. "It's a one-stop shop for 'how-to' gardening information," Cram says.
"This is a great opportunity to talk one-on-one with Master Gardeners," Larsen says, "and bring in those specific questions."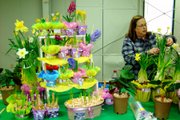 Mastering Your Lawn and Garden, a Spring Garden Fair sponsored by the Douglas County Master Gardeners and K-State Research and Extension-Douglas County will be held from 9 a.m. to 4 p.m. Saturday, April 12, in Building 21 at the Douglas County Fairgrounds, 2110 Harper St. Admission is free.
Extension Master Gardeners will be on hand with information on tree planting and care, growing healthy lawns, container gardening, attracting garden wildlife, among other things. Learn how to start seeds, choose garden tools and care for them, and practice wise pest management. There are also kids activities.
Representatives from Kansas State Extension will be present to show what's new in the Prairie Star Annuals, Prairie Star Perennials and field trials, and give the latest information on the threat of the emerald ash borer. A garden garage sale allows you to re-purpose garden treasures. Unique garden crafts, handmade by Master Gardeners, will be available. Concessions will be provided.
Throughout the day, there will be drawings for door prizes including a magnificent hand-crafted cedar arbor. Spend a day with the Douglas County Extension Master Gardeners and you'll find the information you need to make your own green spaces thrive.
This event only occurs every two years and can help you become familiar with the Douglas County Extension and all of its activities. The emphasis at each booth is education for both what the agency does and how it can help you be more successful. This is a fun, no-pressure, no-sales event.
— Stan Ring is the Horticulture Program Assistant for K-State Research and Extension in Douglas County. Extension Master Gardeners can help with your gardening questions at 843-7058 or mastergardener@douglas-county.com.