I've said it once and I'll say it again: we have no shortage of excellent options for dining out in downtown Lawrence. But when you're dining out with a 3-year-old and a 1-year-old, you tend to consider your options a little bit differently.
Which restaurants have the space and atmosphere that will accommodate a laid-back kind of family-style dinner? If you don't want to break the bank, but want a sustainable meal, where should you head?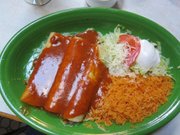 With my sister-in-law plus family in town last weekend, we headed to Cielito Lindo, 815 New Hampshire St., knowing full well that it would be prepared to take care of our needs.
Cielito Lindo is one of the bigger restaurants in downtown Lawrence, which makes it an ideal spot to go for family gatherings or larger parties. It even has a spacious front patio that comes in handy when the weather turns warm and you need a cold margarita!
We didn't have reservations for our 6 p.m. Saturday night dinner — and I was initially a bit worried this would cost us some serious wait time — but to my delight, our party of six (including the two bitty ones) was seated immediately.
Vibrant and lively, the surroundings here are abuzz with laughter, conversation and celebration, which only seems fitting for a Mexican restaurant. It's easy to relax in this family-friendly environment.
The food, too, is fairly inexpensive and quite substantial. Many entrees are under $10, and chips and salsa are on the house. This was especially helpful with my 3-year-old niece, who was thrilled to have chips and salsa to enjoy before her meal came (admittedly, I shared in her happiness).
The menu here includes salads, fajitas, enchiladas, burritos (chicken, beef and pork), and plenty of vegetarian and seafood options as well. A kids menu is available, too.
The mister and I both ordered enchiladas (although different dishes) and margaritas, and they hit the spot. The service was surprisingly quick (especially for how busy they were), and the food was hot and flavorful.
There are plenty of restaurants to pick from when dining out in Lawrence, but considering your expectations for your night first can help inform your choice. With two small kiddos in our party, we knew it would be most enjoyable (for them, and for us!) to find a restaurant that would make us feel comfortable. Cielito Lindo is a great option whether you're with a family, party of kids, or party of wild and crazy adults. Olé!
— Jessica Pauly, aka Mrs. Mass., gives her thoughts on shopping, urban living and what's new in Lawrence in CheckOut weekly and on her blog, mrsmass.com.