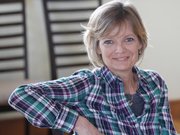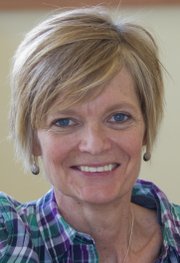 It wasn't until after her sister was diagnosed with cancer last August that Tina Kleckner finally picked up "Hugs for Sisters," a book she had been given by her years earlier. Full of sayings and stories of the special bond two sisters share, one quote resonated with Kleckner:
"Those who bring sunshine to the lives of others cannot keep it from themselves."

This quote, Kleckner says, embodies her sister Alyson Cistola.
While undergoing intensive radiation and chemotherapy treatment, Cistola was more concerned with thanking all of the doctors, nurses and hospital support staff with homemade caramels for taking such good care of her. She was making sure her daughter Heather was adjusting well to her first year away from home at William Jewell College. She was tending to her kindergarten classes at Schwegler School, ensuring she wouldn't miss a day of teaching if she could help it.
Nominated in an essay by Kleckner, Cistola is the winner of Lawrence Journal-World's New Year New You makeover contest. Prizes include free makeup, skin consultation and customized bareMinerals starter kit; a six-month membership to Body Boutique; one month of unlimited tanning at Mango Tan; and a free haircut and color and manicure and pedicure at Images Salon.
"I hope you bless her with this makeover," Kleckner said in the essay. "She is such a beautiful soul both inside and out and could use this gift of pampering, more than you can imagine."
With a sleek new haircut framing a giant smile, Cistola's happiness is every bit of radiant as her sister described. Immediately thanking the Journal-World and contributing businesses for the opportunity to treat herself that week with some of the prizes, her positive attitude is undeniable despite months of being in panic mode while battling a disease that came on two weeks following her daughter's departure to college.
"That conversation was the hardest of my life," she says on a visit to Heather's college to tell her the news so soon after she left Lawrence.
Heather was at first inclined to quit school to be there for her mother, but stuck it out and remained focused with frequent updates from Cistola. During spring break they enjoyed mother-daughter mani-pedis, compliments of Images Salon. It's another example, Cistola says, of how kind people have been toward her, building on her positive outlook in light of the cancer.
"It's almost been a blessing in my life in an odd way," Cistola says. "I'm much more grateful for my family and my friends. I appreciate those things much more. And it's not from a standpoint of 'I'm dying,' you know, that kind of thing."
In fact, Cistola has just been declared cancer free as of now. Following her doctor's advice to the letter, she took any extra inconvenient steps to ensure the strongest fight possible.
"I looked at it as this is what I need to do to be a better me and to get through this," she says of her mentality.
Now she's finding energy in her fresh start. First, a haircut that "made a world of difference" after chemotherapy thinned the texture of her neglected locks and handfuls of hair would come out in the shower. Next, a plan to get back in a workout routine that will help her gain back the physical strength she lost over several months.
"Chemo kills off all cells in your body, cancer cells and good cells," Cistola says. "So the nice thing about this is that I'm in the rebuilding phase. Anything I've put in my body is cleaner and healthy. And now I can work out and gain muscle back."
And she can't stress enough her appreciation for the Lawrence Memorial Hospital team who made her morning treatments brighter; it could have been an awful way to start the day, she says.
"Every day they would lift me up," Cistola says. "I started my day every morning with radiation. I was the first appointment. Those techs there were just fabulous. I can't put enough value on how much they helped me get through this."
Before this experience, Cistola says, she never thought of herself as a terribly positive person, but she can't help but feel like a completely new person. The contest couldn't have come at a better time for a better person, says her sister.
"Even when she was sick and weak from her aggressive treatment, she saw sunshine," Kleckner says. "Although I was trying to be strong and positive for her, her strength and courage and the way our sisterhood changed was a ray sunshine in my life every day."