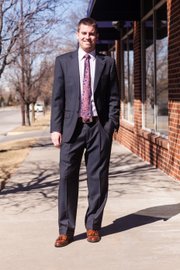 Name: Chris Nicholson
Age: 23
Hometown: Pratt
Time in Lawrence: Five years
What were you doing when scouted? Just got to work.
Occupation: I'm a student and I work at Jos. A. Bank.
What is your dream job? Probably working for a sports team on the business or marketing side.
Describe your style: My style is a little bit conservative, although I still like modern suits and styles.
Fashion trends you love: I'm really starting to like the new styles of slimmer fitting suits.
Fashion trends you hate: Nothing worth mentioning.
Fashion influences: Conservative, classic and clean (styles).
What would you like to see more or less of in Lawrence? Better movie theater.
Whom do people say you look like? My buddy Alex said Jonah Hill if he grew up skinny.
What type of music do you like? I like all genres but I really like country music.
Tell us a secret: I am secretly Justin Timberlake's go-to suit guy!