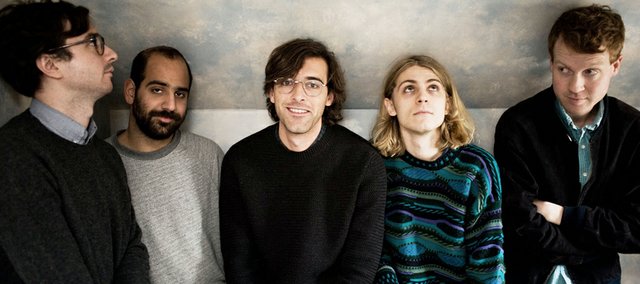 Today in Lawrence is an early-morning digest of essential and not-so-essential info to start your day in Lawrence and Douglas County. Click here for past installments.
That 70s show
Could this weather get any nicer? After a beautiful Wednesday, we'll get more of the same today: Afternoon high around 70, partly cloudy with lots of sunshine, a light breeze and a sprinkle or two. Friday's high will be 75, then we'll push 80 Saturday before cooling down a little.
'America's Heroes'
At 3 p.m. at the Dole Institute, 2350 Petefish Drive, Dr. James Willbanks, author and director of the Military History department at the Army Command and General Staff College, will discuss Medal of Honor recipients who stood courageous in the face of grave danger and risked, or sacrificed, their own lives for the lives of others. The accounts tell a story of valor and of the diversity of ethnicity and culture that will broaden your appreciation for these Americans. Free to attend.
River journey
At 7 p.m. at The Raven Book Store, 6 E. Seventh St., join author Craig Thompson on a journey "Along the Kaw." Thompson's latest takes readers on a scenic trip down the Kansas River with 75 color photographs. Free to attend, signing follows.
Thursdays with Claude
No one doubts Debussy was a genius, but pianist Dr. Steven Spooner will put that theory in practice at 7 p.m. at the Lawrence Arts Center, 940 New Hampshire St., with a celebration of the French composer's work. Tickets: $15 adults, $12 students and seniors.
For sale by loner
Sadness and isolation are the theme of Real Estate's latest, "Atlas," which last month earned Best New Music honors and a rave from Pitchfork. The East Coast indie rockers will be at Liberty Hall, 644 Massachussetts St., at 9 p.m. (doors at 8). Tickets: $8 general public, $3 with current Kansas University ID.
Yesterday's most-read
More April 10 events
Red Dog's Dog Days workout, 6 a.m., Allen Fieldhouse, 1651 Naismith Dr.
Senior Session: Personal Geometry, 10 a.m., Spencer Museum of Art, 1301 Mississippi St.
Story Time for Preschoolers, 10-10:30 a.m., Prairie Park Nature Center, 2730 Harper St.
Skillbuilders: Healthy Cooking for One, 10-11:30 a.m., Drury Place at Alvamar, 1510 St. Andrews Dr.
Cottin's Hardware Farmers Market - Indoors! 4-6 p.m., Cottin's Hardware and Rental, 1832 Massachusetts St.
The Open Tap, discussion of a selected religion topic, 5:30-7 p.m., 5 Bar and Tables, 947 Massachusetts St., free.
Baker University Community Choir Rehearsal, 6-8 p.m., McKibben Recital Hall (Owens Musical Arts Building), 408 Eighth St., Baldwin City.
Shakey Graves, doors 6:30 p.m., show 7 p.m., The Bottleneck, 737 New Hampshire St.
Junkyard Jazz Band, 7 p.m., American Legion, 3408 W. Sixth St.
Collecting Native American Material Culture, 7-8 p.m., Watkins Museum of History, 1047 Massachusetts St.
Free English as a Second Language class, 7-8 p.m., Plymouth Congregational Church, 925 Vermont St.
Affordable community Spanish class, 7-8 p.m., Plymouth Congregational Church, 925 Vermont St.
Community Forum: Sexual Violence in the Heartland, 7-8:30 p.m., Union Pacific Depot, 402 North 2nd St.
Lawrence Arts & Crafts group, 7-9 p.m., Merc cafe, 901 Iowa St., free.
Signs of Life Bluegrass Gospel Jam, 7-10 p.m., Signs of Life, 722 Massachusetts St.
KU School of Music presents: KU Saxophone Quartets, 7:30 p.m., Swarthout Recital Hall, Murphy Hall, 1530 Naismith Dr.
"Feminisms and Democratic Transitions: The Arab Spring in Comparative Perspective," 7:30 p.m., The Commons, Spooner Hall, 1340 Jayhawk Blvd.
Team trivia, 9 p.m., Johnny's West, 721 Wakarusa Drive.
Thursday Night Karaoke, 9 p.m., Wayne & Larry's Sports Bar & Grill, 933 Iowa St.