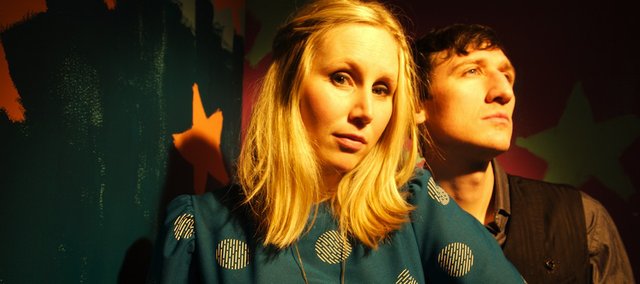 Today in Lawrence is an early-morning digest of essential and not-so-essential info to start your day in Lawrence and Douglas County. Click here for past installments.
Believe it or not
Let's talk about the weather. OK, we know: It's been lousy. Today will start off with a low of 27 degrees (around 6 a.m.), but by this afternoon we'll warm up all the way to a high of 58, not all that bad! And tomorrow we'll get close to 70. So hang in there.
Shakespearian pickers
"Good night, good night! Recycling is such sweet sorrow." Or something like that. Two of the world's top scholars of the Bard will be at Kansas University's Hall Center for the Humanities, 900 Sunnyside Ave., from 3:30 to 5 p.m. to make their case for "Shakespeare the Recycler." The free panel discussion will look at the legendary playwright's search for inspiration in the world around him and in dormant dramatic genres. Blue bin not included.
Premiere evening
Set in 1882, "Wichita" follows a fugitive who hunts for a young man in the quiet cowtown but learns it has more than a few dark secrets. Find out what they are at 7 p.m., when the new indie flick debuts at Liberty Hall, 644 Massachusetts St. The films' director, executive producer and a few actors will be available for a meet and greet after the screening.
Underground sound
The biggest event on Lawrence's calendar tonight is without question John Cale's 8 p.m. appearance with Drakkar Sauna at the Lawrence Arts Center, 940 New Hampshire St. (doors at 7). The Velvet Underground co-founder, mentored by Aaron Copland, has been a legendary musician, composer and producer since the 1960s, and continues to break ground today. Tickets: $40. Lawrence.com's Nadia Imafidon has more in her recent interview with Cale.
First mates
Finally, if you can't get to Cale but still want to take in some tunes, check out Lawrence-born Mates of State with La Guerre at The Granada, 1020 Massachusetts St. (8 p.m., doors at 7). On their current tour, the indie pop duo has abandoned its usual electronic accoutrements and opted instead for piano, cello and other raw sounds. Tickets: $17 at the door.
Yesterday's most-read
More April 15 events
Red Dog's Dog Days workout, 6 a.m., Allen Fieldhouse, 1651 Naismith Dr.
Kaw Valley Quilters Guild: Lynne Hagmeier, "Layered Patchwork Technique," 9:30-11:30 a.m., Plymouth Congregational Church, 925 Vermont St.
Artist Talk with Virginia Jean Cox Mitchell, 1:30 p.m., Spencer Museum of Art, 1301 Mississippi St.
John Tibbetts Book Talk for "Peter Weir: Interviews," 3 p.m., Jayhawk Ink lounge, Level 2, Kansas Union, 1301 Jayhawk Blvd.
Aysenur Kolivar Lecture Demo, Turkish Musician, 4-5 p.m., Haskell Auditorium, Haskell Indian Nations University.
Lawrence-Douglas County Bicycle Advisory Committee (BAC) Meeting, 5 p.m., Parks and Recreation Conference Room, 1141 Massachusetts St.
Big Brothers Big Sisters of Douglas County volunteer information, 5:15 p.m., 2518 Ridge Court.
Lonnie Ray's open jam session, 6-10 p.m., Slow Ride Roadhouse, 1350 N. Third St., no cover.
Lawrence City Commission meeting, 6:35 p.m., City Hall, 6 E. Sixth St.
Free English as a Second Language class, 7-8 p.m., Plymouth Congregational Church, 925 Vermont St.
Affordable community Spanish class, 7-8 p.m., Plymouth Congregational Church, 925 Vermont St.
Auditions: "The King and I," 7 p.m., Theatre Lawrence, 4660 Bauer Farm Dr.
The University Theatre: "The Other Shore," 7:30 p.m., Inge Theatre, Murphy Hall, 1530 Naismith Dr.
Charlie Cook Knows Elections, 7:30 p.m., Dole Institute, 2350 Petefish Drive.
KU Wind Ensemble, 7:30 p.m., Lied Center, 1600 Stewart Dr.
Turkish Music/Lecture Demonstration with Sekan Cagri, 7:30 p.m., McKibbin Recital Hall, Owens Music Building, Baker University Campus, 408 8th St, Baldwin.
Slideshow photography group, 8 p.m., Gaslight Gardens, 317 N. Second St.
Gamer Night, 8 p.m., Burger Stand at the Casbah, 803 Massachusetts St., free.
Free swing dancing lessons and dance, 8-11 p.m., Kansas Room in the Kansas Union, 1301 Jayhawk Blvd.
Traditional Seder Dinner, 8:15 p.m., Chabad Center for Jewish Life, 1201 W.19th St. (Reservations at 832-8672 or www.HawkSeder.com)