Wednesday, April 16, 2014
Delicious
I realize I'm supposed to be the one with all the fattening stuff and leave the clean, healthy recipes to Sarah. And in comparison, I have, though I must admit that I've recently turned over a new spatula, so to speak, and I'm cooking and eating with an eye toward nutrition and eventual weight loss. So, today's recipe represents an effort to have the best of both worlds. It is low in fat and high in vegetables and vitamins, but just to make sure I kept everyone from totally being confused about my identity, I threw in a little bacon. Because a little bacon can't hurt.
Our ingredient for the month was leeks, and I love leeks. I LOVE THEM. I even like them raw, and often use them in soups and quiches, but I wanted something for this that really highlighted the flavor of the leek. I also wanted to put together something that would look beautiful on an Easter table, and that really felt like spring, since it does seem to have finally arrived. I will most certainly be taking this to the Easter celebration this year. Even my meat and potatoes husband was rather smitten with the dish. That is high praise for something that doesn't include a noodle, potato, steak or cheese.
Leeks are often the background of French cooking. They're onions, but milder than the yellow or red varieties Americans more often use. They saute beautifully and also add a textural element if you don't puree them into a sauce or soup.
To clean a leek, chop the green part off the top, and give it a really good rinse. I usually slice my leek the long way down the center before I rinse so I can really get the grit out. Some are dirtier than others, but be sure to wash well and pat dry.
From there, you can do any number of things, from grilling the halves to mincing them down to slicing them up and tossing in a saute, which is what I did in this case.
Warm Easter Salad with Bacon Apple Cider Vinaigrette
1 large leek
1 bundle asparagus
1 can artichoke hearts
4 chicken breasts
4 hard boiled eggs
4 strips bacon
1 tablespoon mustard (I used a sweet hot mustard)
2 tablespoons soy sauce
2 cloves garlic, minced
Olive oil
Salt and pepper
For the vinaigrette:
1/4 cup apple cider vinegar
2 tablespoons bacon grease
2 teaspoons mustard (again, I used the sweet hot mustard)
1/2 teaspoon Worcestershire
2 tablespoons brown sugar
1/8 teaspoon lime juice
1 tablespoon orange juice (either fresh squeezed or otherwise)
Dash of garlic powder
Salt and pepper to taste
I won't lie: this dirties a few pans, which is not something I like in a recipe, but it's worth it.
Clean your leeks and chop them crossways into strips about 1/4 inch wide.
Heat a large skillet (preferable cast iron) with a little olive oil over medium-high heat. Toss the leeks in with a dash of salt and saute until they're softened and beginning to brown a bit on the edges.
Meanwhile, place the four eggs in a saucepan and cover with water. Bring to a boil, then turn off the heat and leave the eggs in the hot water for about 10 minutes. This produces a perfect hard-boiled egg.
Heat oven to 200 degrees.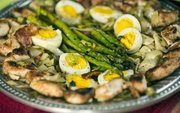 When the leeks are done, remove them to an oven-safe dish and pop them in to stay warm while you prepare everything else.
Into the same skillet from the leeks, place your asparagus. Always cut the woody ends off of it first. Drizzle with a tad more olive oil if necessary and salt and pepper. Saute with the minced garlic over medium-high heat until the asparagus is softened but not limp, about 5 minutes. You want it to have some crunch left for a textural element in the dish.
Transfer the asparagus to the leek dish in the oven, and prepare your chicken.
Toss the chicken with good mustard and soy sauce, and then place it in a very hot frying pan. Add more soy sauce and/or olive oil if necessary. Cook for about 5 minutes per side, or until it's cooked through and nice and brown on the outside.
In another pan, cook your four strips of bacon. Remove the bacon when it's crispy and reserve the grease.
Put 2 tablespoons of the bacon grease into a jar for your vinaigrette, and use the rest to saute a can of quartered artichoke hearts with a dash of salt.
While the chicken finishes cooking, prepare your vinaigrette. Just shake all of the ingredients together. Add more sugar if it is too tart for your taste.
When the chicken is done, it's time to assemble the platter.
Lay the asparagus in the center, and encircle them with artichoke hearts. Sprinkle leeks over everything. Then slice the chicken into strips and lay the strips around the perimeter. Nestle in your boiled and halved eggs, and sprinkle on some bacon pieces. Drizzle with vinaigrette or serve it on the side.
So yes, this is a fairly involved process, though none of the parts are particularly difficult. It's mostly just a game of staying on top of it all, because I had this whole thing ready in under half an hour. And then I asked my husband to do the dishes.
— Megan Stuke is a working mom, a practical cook and an impractical hostess.
Nutritious
My plan for this round of Delicious/Nutritious was to find some way to present our chosen ingredient for April — leeks — in a way where you could actually see them.
Those lovely green beauties are often mistaken for green onions, and end up hidden in pretty much everything: Chopped up finely in a quiche or frittata. Added to a dip. Lurking in a soup.
Unless you roast or grill these suckers by their lonesome, it's super difficult to actually see them as they are: pale green, the less pungent version of their cousins, onion and garlic.
So, to highlight these beauties, I decided to create a simple appetizer that would look pretty and taste great: bruschetta three ways.
Rather than just topping the traditional baguette, I've also topped roasted sweet potatoes and crispy cucumbers. The result is a variable appetizer and snack that puts leeks front and center and out of hiding.
Leek Bruschetta Three Ways
3 medium leeks
1 large sweet potato
1 large cucumber
1 French baguette
Chevre
1/2 tablespoon coconut oil
Salt and pepper
Preheat oven to 400 degrees. Peel and slice the sweet potato into quarter-inch-thick rounds and place on a rimmed cookie sheet lined with parchment. Rub with coconut oil, top with a bit of pepper and place them in the oven for 15 minutes. After 15 minutes, turn them and bake 10 minutes more.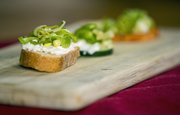 While the potatoes are doing their final 10 minutes in the oven, thinly slice cucumber into rounds a quarter-inch-thick or thinner. Set aside.
Trim the bottom of the leeks and thinly slice the white part until you get about an inch into the light-green portion (don't cut into the part that is dark green and branches off). Place sliced leeks into a bowl of cold water and swish away any sand.
Pat the leeks dry and heat the coconut oil in a saute pan. When the oil is melted, add the leeks. Saute for 3 to 5 minutes until the leeks are soft and a few of the smaller pieces have started to brown. Transfer to a bowl and season to taste with salt and pepper.
Thinly slice baguette and set aside.
To assemble: Arrange cooled sweet potatoes, cucumbers and baguette pieces as desired. Spread on a layer of chevre and top with leeks. Serve immediately.
— Sarah Henning is a writer, blogger, vegetarian and mom. You'll usually find her eating something with kale in it.