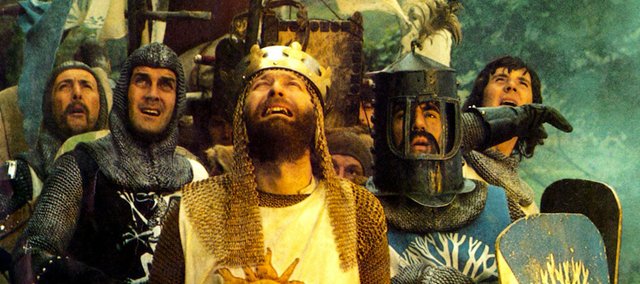 Wednesday, April 16, 2014
Today in Lawrence is an early-morning digest of essential and not-so-essential info to start your day in Lawrence and Douglas County. Click here for past installments.
'Finding Saddam'
How did U.S. forces ever track notorious Iraqi dictator Saddam Hussein to a hole at a farmhouse in ad-Dawr near Tikrit? Find out tonight at 7 when Eric Maddox brings "Finding Saddam" to the Lied Center, 1600 Stewart Drive. Maddox conducted more than 300 interrogations and collected the intelligence that directly led to the capture of Hussein. As a result, he was awarded the Legion of Merit, the Defense Intelligence Agency's Director's Award and the National Intelligence Medal of Achievement. Free to attend.
Fresh voices
In another free event, from 7 to 8 p.m. The Commons at Spooner Hall, 1340 Jayhawk Blvd., will host a pair of fresh voices in American poetry. Joshua Clover, whose work has appeared in three volumes of the Best American Poetry series, and Megan Kaminski, author of the poetry collection "Desiring Map" and current KU creative writing instructor, will read from their work.
Swallow this
Finally, at 8 p.m. Liberty Hall, 644 Massachusetts St., is offering up a rare opportunity to catch "Monty Python and the Holy Grail" on the big screen. Very possibly the greatest comic film of all time. 'Nuff said.
Yesterday's most-read
Other April 16 events
1 Million Cups presentation, 9-10 a.m., Cider Gallery, 810 Pennsylvania St.
University-Community Forum: Kansas Legislature by Paul Davis/Marci Francisco, KS House of Representatives, 11:30 a.m.-1 p.m., ECM Building, 1204 Oread Ave.
"Welcome to Medicare" information session, noon, Lawrence Senior Center, 745 Vermont St.
Big Brothers Big Sisters of Douglas County volunteer information, noon, 2518 Ridge Court.
English Country Dance, lesson 1:30 p.m., dance 2:30-4:30 p.m., Douglas County Senior Center, 745 Vermont St.
North Lawrence Community Dinner, 5:30-7 p.m., Centenary United Methodist Church, 245 North 4th St.
Easter Eggstreme, 6-7:30 p.m., Lawrence First Church of the Nazarene, 1470 N. 1000 Rd.
Public meeting on Lawrence-Douglas County Planning Department Comprehensive Plan, 6-8 p.m., Lawrence High School cafeteria, 1901 Louisiana St.
"Walk With Christ" Pre-Easter Tour, 6-8 p.m., Church of Jesus Christ of Latter-day Saints, 3615 West 10th St.
Lawrence in Arabia, 6-8 p.m., Gridiron Room, Burge Union, 1601 Irving Hill Rd.
Faith Forum: Bob Minor, "A Journey into Ambiguity," 6:30-8 p.m., Ecumenical Campus Ministries, 1205 Oread Ave.
The Beerbellies, 6:30-9:30 p.m., Johnny's Tavern, 401 N. Second St.
Douglas County Commission meeting, 6:35 p.m., Douglas County Courthouse, 1100 Massachusetts St.
NAMI-Douglas County meeting, 7 p.m., Lawrence Senior Center, 745 Vermont St.
Ballroom/Latin Dance Class, 7-8:30 p.m., Big Six Room, Eldridge Hotel, 701 Massachusetts St. (No partner needed.)
Poetry Slam for ages 13 and up, 7-9 p.m., Lawrence Public Library, 700 New Hampshire St.
Jam: Mike Vande Band, 7-9 p.m., Cutter's Smoke House, 218 E. 20th St., Eudora.
The University Theatre: "The Other Shore," 7:30 p.m., Inge Theatre, Murphy Hall, 1530 Naismith Dr.
Conroy's Trivia, 7:30 p.m., Conroy's Pub, 3115 W. Sixth St.
Pride Night, 9 p.m., Wilde's Chateau, 2412 Iowa St.