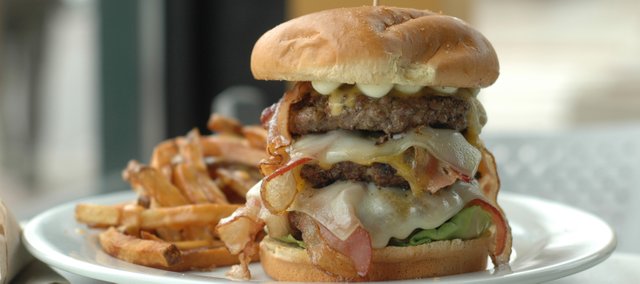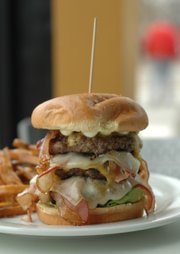 This is a real burger on the menu, not some kind of eating challenge — although for an average person it almost could be. Three 1/3-pound patties are stacked with lots of bacon, melted Swiss and cheddar cheeses, mayo, tomatoes, pickles and particularly fresh and yummy butter lettuce (after all, Ingredient is a restaurant better known for its custom salads). Ingredient's Kansas City-area locations don't have a similar item on their menus but the Columbia, Mo., location does, called the Nightmare on Elm Street.
Where to get it: Ingredient, 947 Massachusetts St.
What you'll pay: $11.95
Try it with: Knife, fork, extra napkins and self-restraint. Or, heck, throw that out the window and upgrade your side to Merkts cheddar fries, which come loaded with melted cheese.
Also on the menu: Build-your-own salads (with more than 75 lettuce, topping and dressing options), brick-oven pizzas, sandwiches, wraps and burgers.
— Off The Beaten Plate highlights some of the more exotic, oddly named or inventively concocted dishes from local menus. Know of an offbeat item we should check out? Email reporter Sara Shepherd at sshepherd@ljworld.com. Follow her at Twitter.com/saramarieshep.