According to Terrebonne, a po' boy is a long sandwich on French bread, typically containing a spicy mayonnaise and fried seafood, but can be made with about anything you can think of. If this description sounds mouth-wateringly delicious to you, then rest assured your taste buds know what's up. Terrebonne isn't called Terrebonne Po' Boys for nothing; they know exactly what they're doing.
Located off the beaten path near Eighth and Vermont streets downtown, Terrebonne's tiny space boasts major flavor and serious business. I headed there on a Saturday around 1:30 p.m. for a late lunch with a friend, and the traffic flow of hungry Lawrencians was constant until I left around 2:30 p.m.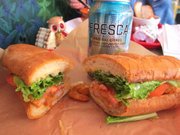 The small size of the café — interior seating for about a cozy dozen — is hardly a hindrance for customers. A casual patio located on the north side of the structure seats many more and is probably preferred seating for this time of year.
If you're curious to know where the name came from, Terrebonne was originally named after a parish on the southernmost tip of Louisiana (meaning "good earth" in French). It's fitting, then, that they serve New Orleans po' boys, which they described as a sandwich that was created during the Great Depression to feed longshoremen in the area.
Terrebonne makes their po' boys extra special by blending mayonnaise, creole mustard, hot sauce and chili sauce. I never knew such a magical mixture could take the sandwich experience to a new level of sensational.
My lunch order was simple: a shrimp po' boy and a Fresca (although I'd be remiss not to mention that they have PBR for $2). Catfish, oyster and even alligator po' boys are also on the menu.
My friend ordered the chicken noodle soup. We were lucky enough to grab a table inside, and minutes later we were face-to-entree with picture-perfect dishes. It might sound strange to describe a sandwich as beautiful, but that's the adjective that comes to mind when thinking back on this specialty. I also must say, the chicken noodle soup my friend ordered was heartier than I've seen anywhere else! And it was served with a few slices of fresh bread.

Terrebonne is a gem. The '70s decor, the specialty cuisine, the excellent prices (my meal totaled to $8.71) — it's all A+ in my book. What's more, the menu is packed with so many dishes that are unfamiliar to me, I could probably visit daily for a week plus and never eat the same thing.
If you're a fan of Cajun and creole, make sure to swing by Terrebonne. They've got muffaletta, Andouille, gumbo, jambalaya, hush puppies, a slew of homemade desserts, and of course, my new favorite, the life-changing po' boy.
— Jessica Pauly, aka Mrs. Mass., gives her thoughts on shopping, urban living and what's new in Lawrence in CheckOut weekly and on her blog, mrsmass.com.