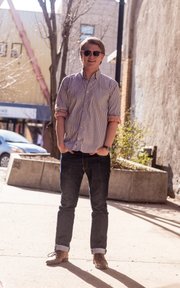 Name: Graham Ray
Age: 23
Hometown: Hutchinson
Time in Lawrence: Five years
Relationship status: In one with Ursula
Occupation: I work in student affairs at KU.
Dream job: Aerospace engineering. That's what my degree is in.
What were you doing when scouted? Heading to dinner at 715.
Describe your style: I like to keep it simple with no gimmicks. I like a lot of colors. My closet is a rainbow of colors, and I'm really into watches. I'm kind of detailed oriented.
Fashion trends you love: I really don't know any, but there is an analog watch craze that is coming back.
Fashion trends you hate: Huge, flashy, big watches, and I'm not a big tank top fan.
Fashion influences: Magazines, social media, blogs and TV to see what people are wearing.
What would you like to see more or less of in Lawrence? Store-wise, more variety for clothing choices. Less cookie cupcake shops!
Whom do people say you look like? Leonardo DiCaprio
What type of music do you like? I'm all over the place: blues, rock, psychedelic rock and modern stuff.
Tell us a secret: I was on a museum brochure when I was 4 years old with my dad, and he was wearing a mullet.