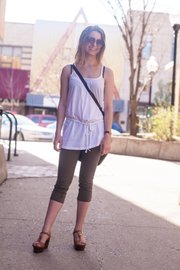 Name: Ursula Rothrock
Age: 23
Hometown: Lawrence
Relationship status: In one with Graham
Occupation: Communications coordinator for the college of liberal arts and sciences at KU
Dream job: I'm going to law school in the fall, so something in law.
What were you doing when scouted? Going to 715
Describe your style: It varies a lot. I tend to gravitate toward things that are more classic or vintage. I don't dress up too much. I'm kind of casual but I really care about how I look.
Fashion trends you love: I'm glad to see high-waisted (designs) for women is a trend. I like, for men's fashion, that looking "more put together" is becoming a bigger thing.
Fashion trends you hate: I know I said I like "high-waisted" but conversely, the cut-off jean shorts that are really really short … I don't like that!
Fashion influences: I buy what I like. It's just a gut feeling. I mean, I follow some people on Instagram and fashion blogs, but I don't really base what I buy on them.
What would you like to see more or less of in Lawrence? More cheap but authentic and good-quality tacos. Less stabbings.
Whom do people say you look like? I look like my siblings!
What type of music do you like? I like a lot of stuff like folk music from the '60s to recent groups like Arcade Fire. How do you describe that kind of music?
Tell us a secret: I hate breakfast cereal! I try not to tell people because they get so mad.