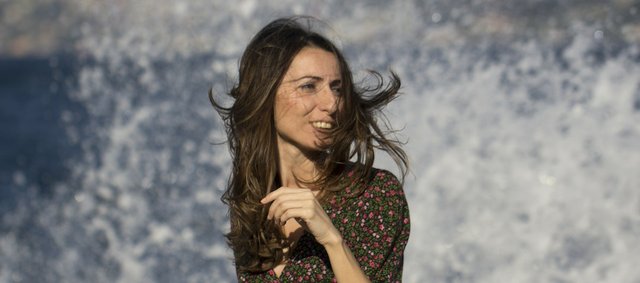 Today in Lawrence is an early-morning digest of essential and not-so-essential info to start your day in Lawrence and Douglas County. Click here for past installments.
Things fall apart
Once upon a time in Kansas, trilobites and ammonites ruled the sea, but today they're long, long gone. Ever wonder why? From 7 to 9 p.m. at the KU Natural History Museum, 1345 Jayhawk Blvd., Dr. Bruce Lieberman will explain what the invertebrate fossil record has in common with the stock market and stars throughout the universe.
The old songs and the sea
At 7:30 p.m. at the Lied Center, 1600 Steward Drive, Turkish folk musician Ayşenur Kolivar will bring sounds of the Black Sea to Lawrence with her three-piece ensemble. Kolivar is one of Turkey's most highly-regarded recording artists and composers, so this is one not to miss. Tickets: $22 adults, $11 students and youths.

A portrait of the college as a new man
The modern model of the university has been largely unchanged for over a century: comprised of disciplines associated with departments and schools, teaching in lecture halls and accreditation by degree. But the times, they are a-changin'. From 8 to 9:30 p.m. at Spooner Hall, 1340 Jayhawk Blvd., join David Krakauer, director of the Wisconsin Institute for Discovery, for his free lecture on "The Future of the University." You'll be surprised what you learn.
Yesterday's most-read
Other April 17 events
Red Dog's Dog Days workout, 6 a.m., Allen Fieldhouse, 1651 Naismith Dr.
Story Time for Preschoolers, 10-10:30 a.m., Prairie Park Nature Center, 2730 Harper St.
Skillbuilders: Caring for Your Home, 10-11:30 a.m., Drury Place at Alvamar, 1510 St. Andrews Dr.
Drop-in Alzheimer's Screenings (BAS Testing), 10 a.m.-1p.m., Bridge Haven at Alvamar, 2147 Quail Creek Dr.
"Inequality in the Post-Civil Rights Era: A KU Symposium Commemorating the 60th Anniversary of Brown v. Board of Education," 10:30 a.m.-6 p.m., KU Hall Center for the Humanities, 900 Sunnyside Dr.
League of Women Voters Brownbag: Elise Higgins, Planned Parenthood of Kansas and Missouri, "Legislative Threats to Women's Health," 11:30 a.m. informal discussion, noon-1 p.m. presentation; Watkins Museum of History, 1047 Massachusetts St.
Lecture: The Dream Rocket, noon-1 p.m., Mulvane Art Museum, 1700 SW College Blvd., Topeka.
Cottin's Hardware Farmers Market - Indoors! 4-6 p.m., Cottin's Hardware and Rental, 1832 Massachusetts St.
The Alzheimer's Association - Caregiver Support Group, 5:30-6:45 p.m., Conference Room D-South, Lawrence Memorial Hospital, 325 Maine St.
The Open Tap, discussion of a selected religion topic, 5:30-7 p.m., 5 Bar and Tables, 947 Massachusetts St., free.
Hallmark Symposium Lecture: Photographer Mark Klett, 6 p.m., Spencer Museum of Art, 1301 Mississippi St.
"Walk With Christ" Pre-Easter Tour, 6-8 p.m., Church of Jesus Christ of Latter-day Saints, 3615 West 10th St.
Baker University Community Choir Rehearsal, 6-8 p.m., McKibben Recital Hall (Owens Musical Arts Building), 408 Eighth St., Baldwin City.
Sons of the Union Veterans, 6:30 p.m., Watkins Community Museum of History, 1047 Massachusetts St.
National Healthcare Decisions Day: Do Your Loved Ones Know Your End-of-Life Wishes? 6:30-8 p.m., Lawrence Memorial Hospital auditorium, 325 Maine St.
Junkyard Jazz Band, 7 p.m., American Legion, 3408 W. Sixth St.
Free English as a Second Language class, 7-8 p.m., Plymouth Congregational Church, 925 Vermont St.
Affordable community Spanish class, 7-8 p.m., Plymouth Congregational Church, 925 Vermont St.
Anti-Human Trafficking Forum, 7-8:30 p.m., Union Pacific Depot, 402 North 2nd St.
Signs of Life Bluegrass Gospel Jam, 7-10 p.m., Signs of Life, 722 Massachusetts St.
The University Theatre: "The Other Shore," 7:30 p.m., Inge Theatre, Murphy Hall, 1530 Naismith Dr.
"The Great Gatsby," 7:30 p.m., Theatre Lawrence, 4660 Bauer Farm Drive.
Team trivia, 9 p.m., Johnny's West, 721 Wakarusa Drive.
Thursday Night Karaoke, 9 p.m., Wayne & Larry's Sports Bar & Grill, 933 Iowa St.