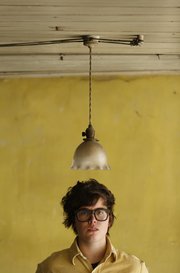 Photo Gallery
Party Pix: Real Estate and Your Friend at Liberty Hall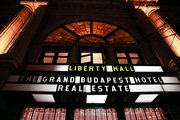 Real Estate and Your Friend performed April 10 at Liberty Hall.
A particular venue can speak volumes for the stage an artist has reached in his or her music career. For breakout Lawrence musician Taryn Blake Miller, who was recently signed to Domino Records as Your Friend — and plays shows in Lawrence weekly with bands CS Luxem and Oils — opening for Brooklyn's indie rock Real Estate at Liberty Hall on April 10 was an unexpected, surreal experience.
This particular show fell on her birthday, and attending it was originally the gift she had in mind. When Miller was asked if she would open for Real Estate, she was left speechless, and under the impression she'd be playing at Bottleneck. It wasn't until Kelly Corcoran, Your Friend's manager and owner of Love Garden, told her it was at Liberty Hall that she understood how truly special her birthday would be.
"No part of me thought I'd be playing Liberty Hall this soon in my life," Miller says.
Things played out differently than they have at other venues. At this one, the band would set up, sound check and leave everything onstage to make an entrance later where she'd be the last of the members to grace the stage. And when the light hit her, she says, the crowd of close friends and supporters gave her a friendly welcome.
"Getting into the light and just hearing everything erupt, it was like chaos," Miller says. "People were yelling 'happy birthday.' It was one of the coolest moments I've ever experienced, absolutely."
With such a large space, leaving ample room for her voice to soar freely and lush instrumentation to ring brightly throughout the room, it's incredible how intimate the concert felt, she says. An underlying, droning, shoegaze feel to her live music, married nicely with dreamy image projections on a screen behind them (her ultimate dream is to score a film), the performance had the atmosphere of an informal house show, only amplified.
"I really love live performing because of the sound waves. You can feel it and get lost in the noise," she says.
A 'golden ticket moment'
Since the Feb. 20 announcement that Miller had signed with London-based Domino Records, and the re-release of her debut album "Jekyll/Hyde," her enthusiasm hasn't wavered. Having just about every record in her own collection that Domino's released, this exactly what she's been working toward.
"What's it like having your dreams come true, physically, in front of your face?" Miller says. "That's what it was like, it was a total golden ticket moment. Finding that [freaking] golden ticket and running down the street with it, like this is going to happen. This is my life."
Spin magazine named Your Friend one of five best new artists in April, news she found out via email about one week before it was published online.
"It was really funny because it came out on April Fool's Day, and I was like, 'this is not a joke, unless Spin is playing a really mean joke on me,'" she says.
Originally from Winfield, the 22-year-old studied music at Cowley Community College for two years, furthering her skills in guitar, bass and percussion in various capacities, and singing in the choir. She then moved to Lawrence to attend Kansas University (her degree is in linguistics) and engage in the rich music scene she had grown to love from years of going to shows.
"It's always felt right here," she says.
Making Lawrence proud
As she pursued a challenging degree, and saw her music fall on the back burner as a result, Miller knew it was time to put herself and music out there. The first experience was in a shed at a wild birthday party, making up songs on the spot and receiving incredible feedback. It changed everything.
Her track "Tame One" has gotten at least 60,000 listens on Soundcloud; the video directed by Dalton and Austin Paley shows Miller's life in Lawrence, giving snapshots of different spots including Love Garden, where she works part-time, and the tight-knit community of musicians she has formed "magical" friendships with in the city.
Someone told her just the other day that he feels good having Miller represent Lawrence, and she says it was one of the sweetest reminders that she is in the right place, and sees no intention of leaving in the foreseeable future.
"I feel like I'm the luckiest person in the world sometimes," Miller says. "As good as this town is to me, I want to give back the same to the town. I want to do something that makes Lawrence proud."
Heading down to Austin for SXSW was her first and only time performing outside of Lawrence, and next on the list is setting up a tour this summer. Without having played beyond the two locations, Miller still receives love from fans from faraway places, including press in France, Portugal, Belgium and Tokyo, to name a few.
It's surreal finding her images and mentions all over Web, but more than anything else, "it makes me feel closer to the world," Miller says.
Of course, putting out a full-length album is big next step, but as a careful songwriter, she will trust that just like with "Jekyll/Hyde," the music will dictate what she should do and all she will have to do is follow. Miller hopes the new record will have more energy this time, whether her already emotionally resonant, ambient music gets darker or lighter. As life will inevitably change, so will her work.
"I want the beats per minute to be a little higher on this one," Miller says. "That one was a meandering, lingering EP and I want this one to be a force of some kind."