Wednesday, April 23, 2014
When my friend Angie asked for a King cake last month, I was happy to oblige. I found an excellent recipe online, made the cake and was immediately addicted.
Since my daily carb limit doesn't include huge portions of cake, I decided to have a go at adapting the recipe to something smaller. Turns out, it lends itself perfectly to cinnamon rolls. Wanna try? Feel free to follow along!
Drop 2 tablespoons of butter into a small saucepan along with 1/3 cup of sugar and 1 cup of sour cream. Stir them together over low heat until smooth and melty. While the meltiness is happening, mix 1/4 cup of warm water with 2 teaspoons of sugar and 1 packet of dry yeast. Let it sit for about 5 minutes to proof.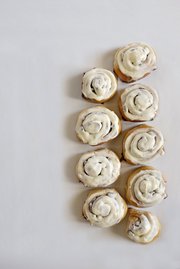 In a large-ish mixing bowl, whisk together 1 egg and 1/2 teaspoon of vanilla. Check your sour cream mixture. Not too hot? Good. Pour it into the egg and stir. Now dump in the yeast mixture and stir everything together.
Flour power time! Stir in 3 cups of bread flour, a cup at a time. Toss some flour on your countertop, dump out the dough and knead for 10 minutes. Add a little more flour as needed to prevent sticking. When the dough is ready, it should feel smooth, elastic and a little slack. Mist the inside of the mixing bowl with cooking spray and put the dough in. Roll it around to coat the whole ball with oil, cover the bowl with a tea towel, and set the whole shebang somewhere warm to rise for an hour.
Once the dough has doubled in bulk, knead it gently five or six times and roll it into a big rectangle on your countertop, about 12 inches by 20-some inches. Spread 6 tablespoons of softened butter over the dough, getting fairly close to the edges. Scatter 1 cup of raisins over the butter. Mix 1/4 cup of sugar with 1 tablespoon of cinnamon and sprinkle this evenly over the butter and raisins.
Starting at one long edge, roll up the whole mess into a nice, neat little log. Using a sharp knife and a gentle sawing motion, cut the log into 12 equal pieces. Divvy the pieces between two greased 9-inch round cake pans. Drape that tea towel over the pans and let the rolls rise for about half an hour.
Fire up your oven to 375 degrees and bake your rolls for 20-25 minutes. You'll know they're ready when the tops are a deep golden brown and the smell of baking cinnamon is driving you crazy. Let the rolls cool in the pans for about 10 minutes, then slather them with your favorite cream cheese frosting. Watch the frosting drool down the sides. Watch your family drool, too.
Let the rolls cool just a bit longer to prevent fried taste buds, and then dig in.
Enjoy!