It's finally spring, a time of rebirth and renewal, and a time to reacquaint ourselves with the natural world, which for many of us, means mowing, weeding and gardening.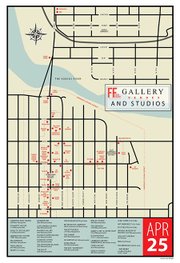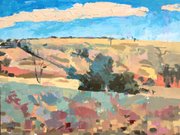 Fine arts photographer, Betsy Forcade, whose work will be featured at Phoenix Underground, 825 Massachusetts St., however, hopes that we will take time out of our busy schedules to connect with the unspoiled natural world around us.
The photographs focus on places that follow their own laws, areas like the Flint Hills and Baker Wetlands. She reveres those spaces and believes that we learn about our own humanity when we open up to the teachings of the natural world. She hopes, if she is successful in conveying their beauty, others will be inspired to protect our natural heritage.
• • •
Two individuals showing their work Friday gave up the open spaces of the Midwest for the concrete jungle of New York, only to find their way back home. Billy Beeson was raised in Lawrence and moved to New York where he attended art school, honed his skills and learned to trust himself and his instincts.
Beeson returned home where fatherhood and family forced his art into an "occasional hobby." It all changed in 2012 after being diagnosed with a neurologic disorder that causes stroke-like episodes. The condition forced him to reinvent himself and he started painting again.
"The collective perspectives of getting older and facing mortality opened new doors into my creativity," he says in his statement. "Rather than insisting that I find 'my' style, I'm open and willing to explore various mediums, take risks with colors and forms and challenge myself to embrace my pieces as they progress."
Beeson's paintings will be on display Friday night at the Cider Gallery, 810 Pennsylvania St. from 5 p.m. to 9 p.m.
Lisa Purdon returned to Lawrence after attending Pratt Institute in Brooklyn. While there she learned how artists survive in a bad economy, and in what she called a "desolate, discarded neighborhood." Many opened businesses that not only supported their craft, but contributed something valuable to the community. Wanting to bring what she learned back to Lawrence, Purdon opened CosMod Inc Studios, 717 East 22nd St., open for Final Fridays. She describes the space as an "art installation that feels like a pop-up store."
In addition to creating original art work, Purdon refinishes, refurbishes, and recycles furniture and lighting. The store is "parts and pieces of American history on display and for sale," she says, "like a pair of framed Nixon prints, a big-eyed girl vase, African Folk Art figure, an Art Deco ice bucket, an Arts & Crafts floor lamp, and WWII bunk beds… The changing collection tells a story, one that questions the how, why and for what reasons we choose to keep, what we lose along the way and what is left behind."