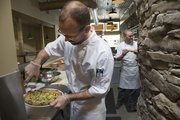 Some may think it's odd for a restaurant to name its oven.
But when the oven is a 20,000-pound limestone wood-fired behemoth that heats up to 1,000 degrees and bakes a pizza in 90 seconds, it's safe to say that "Maggie" is the most important member of the new Limestone Pizza + Kitchen + Bar family.
Maggie — named after Maggie Murphy Backus who recently passed away after battling years of cancer — is the key piece of the Neapolitan-style pizza made from Kansas flour, local farm-sourced tomatoes and other regional ingredients. The masterminds behind the operation have coined these 12-inch pies as "Neoprairie," each created with the subtlety of a few basic ingredients.
"The oven does all the work to make it taste really good," says Limestone owner Rick Martin, former executive chef at Free State Brewery for 15 years.
Limestone, located at 814 Massachusetts St. in the former La Parilla space, is under the leadership of three innovative foodies in town. Martin has teamed up with Mikey Humphrey, who served as the head baker at Wheatfields, and Charles Rascoll, who is one of the founders of Wheatfields and served as a longtime instructor at the Culinary Institute of America in New York. Debbie Rascoll, Charles' wife, also will be a partner in the business.
If you go
Limestone Pizza, 814 Massachusetts St., is open 11 a.m. to midnight Monday through Saturday and noon to 10 p.m. Sunday.
With a concept so unheard of, Italy meets Kansas, Martin isn't concerned about competing pizza joints.
"There's such a big difference between all of the American-style pizzas and the true high-temp Neapolitan-style," Martin says. "Anyone who has had the pizza could probably tell you, yeah it's unlike anything you've had before."
Similar to the difference between American-Mexican food and "real tacos al pastor," true foodies will seek out food made completely from scratch using local goods. In fact, other businesses have little to do with what Limestone is providing.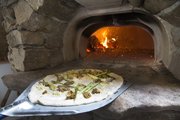 "We're going for a zero-waste concept where we compost, we recycle everything that comes into the building, we use cloth napkins, LED lights, low-temperature dishwasher — all those things just to give everyone that experience of feeling like we're not just another restaurant," Martin says.
Martin has had Neapolitan pizza on the brain for a while now, he says. Building a successful menu around the one featured item proved to be challenging, but he thinks of it as the same kind challenge they faced with the brew/pub branding of Free State Brewery. That's why Free State owner Chuck Magerl continues to be his most influential mentor throughout this process.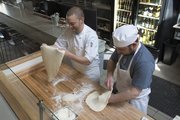 "You brew your own beer, and if you do a really good job of that, that's one thing," Martin says. "But like at Free State, bringing food into it as well, and being known for both. I saw that same challenge with pizza.
"I don't want do just pizza, the typical Italian-type menu. I'd rather do something real farmhouse, rustic, tavern-like to work around the pizza. And take some of the pressure off the pizza."
The pizza menu includes the classic Margherita, mushroom, Farmer (bacon and eggs), The Spud (potatoes, creme fraiche, bacon), broccoli rabe and sausage. Ham and beans is one of the most popular plated dishes so far (steak and linguine are also on the menu), and there are various snacks, salads, sandwiches and sweets to order.
"We make our own stocks here, we make our own ketchup, we make our own chili sauces, pickles, sauerkraut," Martin says. "Everything we can make by hand, we do. We don't bring anything processed into the building at all. I think that's kind of the sell point for us. We want to get people to experience eating the right thing, doing the right thing."
Everything on the menu is local and seasonal, so expect changes as the weather continues to warm up. Martin already spoke with Jill Elmers from Moon on the Meadow Farm about saving some space to grow tomatoes they can process, freeze and use year-round, but they may not have enough to last that long. His original plan factored peak pizza sales being between 100 and 200 pizzas per day. They've been selling a whopping 300 to 400 in the brief time they've been open.
The team credits the successful opening to a six-tiered mission statement based around hospitality, community and a learning environment, as a few of Martin's former students from a Eudora high school culinary arts class he taught for two years now work with him at Limestone.
The mission keeps them grounded as they try to keep up with demand.
"Being a successful business is a lot more than coming up with a great concept and having great food," Martin says. "It's a plan and it's a long-term plan and it's all about being dedicated to that mission every single day."