Here's your big reminder, people: Mother's Day is Sunday, May 11, which is right around the corner! While each and every mom is unique, the way we show mom's love can translate seamlessly with a few tried and true gifts or thoughtful gestures. I've visited quite a few Mass. Street favorites over the past two years, and I'm happy to share some gift ideas for Mother's Day that will surely win you first place in her heart.
First, let's talk about mom's spirit. If you're a Kansas University student — or graduate — then she's probably pretty proud to rock the crimson and blue. Kansas Sampler, 921 Massachusetts St., and Jock's Nitch, 837 Massachusetts St., have excellent selections, whether it's apparel, accessories or something else you have in mind.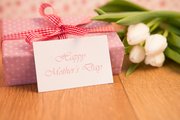 Gifting mom a new KU T-shirt, travel mug or tote could serve as a great reminder that you both share Jayhawk spirit! Not to mention these particular items tend to be especially useful, too (bonus points).
But maybe your mom isn't the type to really embrace her inner Jayhawk (hey, that's OK too). Another great gift idea is about the finer things in life: beauty and relaxation. Goldmakers, 723 Massachusetts St., is a fantastic place to pick out a one-of-a-kind piece of jewelry that enhances mom's natural beauty.
Or if she's not too interested in jewelry (gasp!), perhaps a decadent Tokyomilk perfume at Bloom, 704 Massachusetts St., or an ultra-fresh, springtime candle from Waxman, 609 Massachusetts St., would suit her fancy.
If nothing else seems right, and mom isn't interested in material gifts, you know what to do: spend time with her! Catching lunch or dinner at fresh spot, with great food (I'd suggest 715 or Wheatfields), can give you and her an opportunity to share conversation over tasty eats. If you're both a bit overscheduled for lunch or dinner out (or maybe, you'd just like a cheaper version of the same-ish thing), surprise her with a cup of joe in the morning from her favorite coffee shop. Alchemy Coffee, 1901 Massachusetts St., is mighty fine, and will give her that serious boost of caffeine she likes.
Mother's Day is an important time to reflect on all that moms do for us. Appreciation and love can be shown in numerous ways, and I've mentioned only a few here. However you decide to celebrate mom, I hope it's extra special this year. And to all the mother's out there: Wishing you a love-filled Mother's Day!
— Jessica Pauly, aka Mrs. Mass., gives her thoughts on shopping, urban living and what's new in Lawrence in CheckOut weekly and on her blog, mrsmass.com.